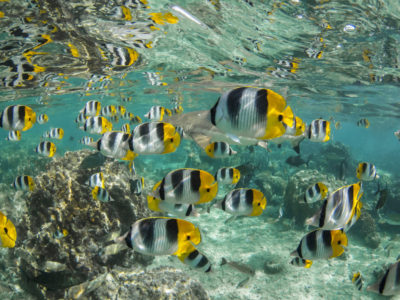 Enjoy Some of Maui's Best Snorkel Spots…
Are you searching for the best snorkeling in Maui? You're not alone! We guarentee you that you will not be dissappointed in what paradise has in store for you. The island of Maui is surrounded by dozens of snorkel spots and exciting diving locations. We can help you find awesome Maui snorkeling locations and we have put together a list of the top 5 places to snorkel in Maui.
The state of Hawaii has many beautiful snorkeling locations, but Maui is the #1 island in Hawaii for snorkeling. Rest assured, even if you are not an experienced swimmer, you can still enjoy these beautiful location. We always recommend snorkeling with others and always trust your gut; if you do not feel comfortable, don't go out!
Try going out of the Four Winds II and take advantage of our patented Sea-boards that allow you to stay above the water and still see the underwater world.
Whether you're planning a trip to Maui in the winter or the summer, you'll always find a great place to snorkel in Maui!
1. Molokini Crater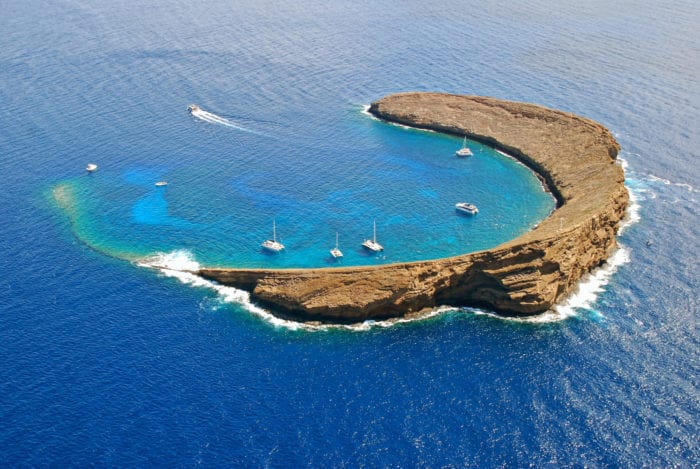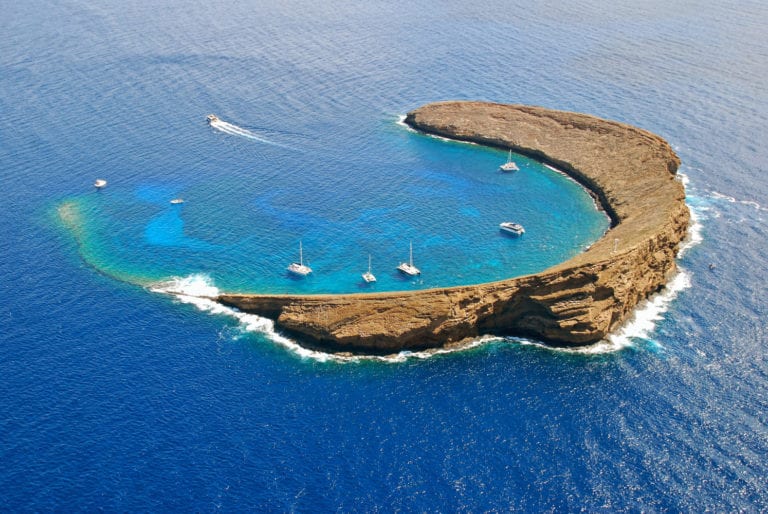 Molokini remains at the top of the list of "must see" destinations on Maui. The snorkeling is some of the best in all of Hawaii and has been voted as a top reef snorkel site. Even the back side of the crater is considered to be one the 10 best dive spots in the world.
Located just a few miles off Maui's rugged Makena coast, lies the  sunken volcanic crater of Molokini. Only three sheltered volcanic calderas still exist, with Molokini being one of them. Here the crystal-clear tropical waters are home to an array of fish and other unique species of marine-life that all seek shelter inside this beautiful crater.
Due to the protective shelter the crater provides, snorkeling at Molokini is extremely safe. The trusty crew on the Four Winds II is always available, both inside and outside the water, to assist and make sure you get the most out of your snorkel experience.
2. Coral Gardens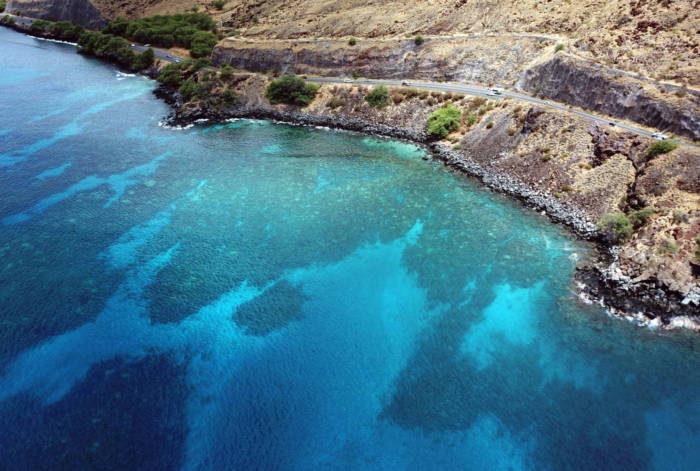 Coral Gardens is one of the best snorkeling spots on Maui. Whether you're looking for colorful tropical fish or a chance to swim with Hawaiian green sea turtles, Coral Gardens has it all. Located just south of Olowalu and fronting the gorgeous West Maui Mountains, this lush environment allows marine life to thrive.
Coral Gardens is a unique, beautiful natural reef formation that is in a protected bay, on the west-side of Maui.  It is home to many Hawaiian Green sea turtles and hundreds of species of fish. Coral Gardens is located near the coastline, along the Pali Highway Mountain Pass before Olowalu. Cliff lines surrounding this cove protecting it from wind and rough seas. This snorkel spot is only safely accessed by boat. It is truly special, because of what lies beneath the surface… the coral formations here and marine life (including turtles) are SPECTACULAR!
With only a few boats at this location, this snorkel spot is more elite and private. With visibility reaching 40 feet, it's crystal-clear waters and large coral heads make the views for snorkeling breathtaking. Check out Coral Gardens on the afternoon trip on the Four Winds II!
3. Honolua Bay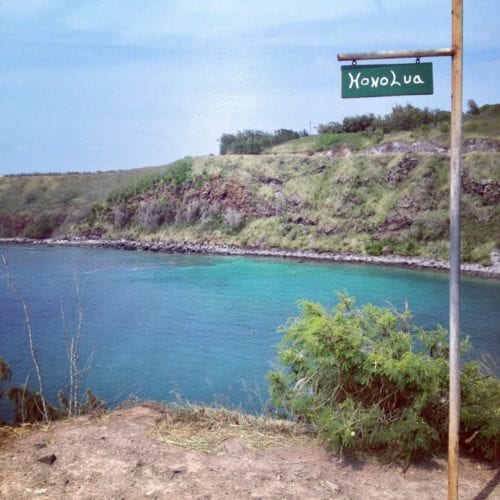 Honolua Bay is located in the north western portion of Maui (approximately 20 miles north of Lahaina). The bay is surrounded by rocky cliffs that help protect the bay from the wind, resulting in calm water. The center of the bay is divided in two by an old boat ramp. You will notice darker sand and rock at the shallow end of the bay, but the further out you swim in, the sand becomes white and you will see beautiful coral reefs and marine life.
There is a famous surfing spot far out to the right of the bay. When the surf is pumping, you may experience some murkiness in the water from the commotion. The wave is beautiful and is quite a site to see! You'll also get a view of the beautiful island of Moloka`i.
Some of the marine life you may see at Honolua Bay includes: Wrasse, parrot fish, butterfly fish, trigger fish, box fish (my personal favorite), snapper, eels, turtles, etc!
Swim with caution at this location. There are no lifeguards on duty and there are no showers or bathrooms. You usually will see a porter potty or two at the entrance. Parking is very limited and proceed with caution around the curves of the road, as people tend to speed.
4. Turtle Town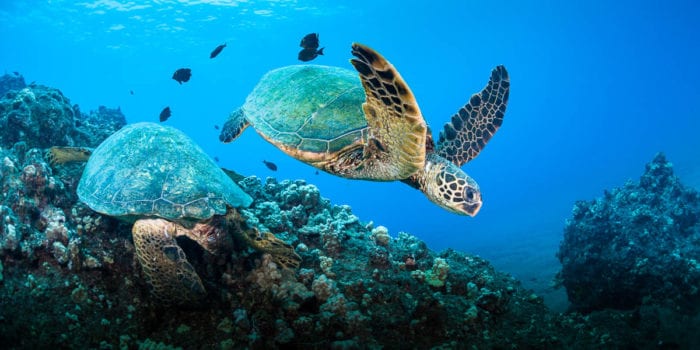 This snorkel spot will not dissappoint! Turtle Town is located on the southren coastline, between Black Sand beach and Nahuna Point. It is almost impossible not to see a turtle when you snorkel at Turtle Town. Hawaiian green sea turtles feed off the algaea on the rocks that are closer to the shoreline. The sea turtles are part of the Endangered Species Act, which has helped their population flourish.
Turtle Town is best accessible by taking a Maui boat tour and is known for some the best snorkeling in Maui.  If you are looking for the best Maui snorkel tour, make sure you check out the Maui Magic!
5. Black Rock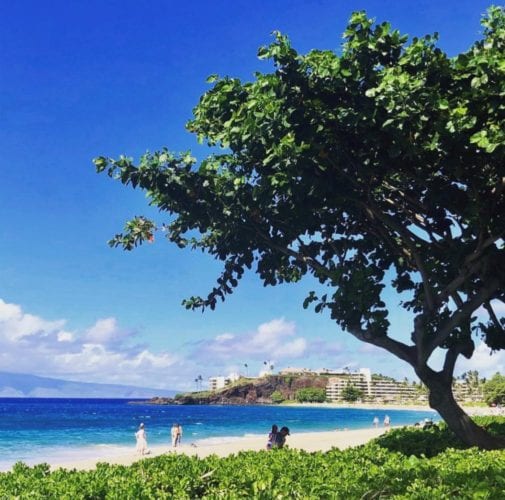 Black Rock is located on the beach of Ka`anapali and is fronting the Sheraton hotel. You will love the 3 miles of white sand that Ka`anapali Beach has to offer. Enjoy walking the boardwalk, shopping at Whalers Village, bar hopping at the different resort pool bars, and of course, eating!
Black Rock is not only known for great Maui snorkeling, but also as a jump off location. Here you will get to snorkel with beautiful tropical fish and enjoy the crystal, clear blue water and beautiful white colored sand. You may even spot a turtle or two! The depth is approximately 7 ft where the coral begins and extends about 25 feet in deth around the rock point.