Molokini Crater
Molokini is a unique crescent-shaped, partially submerged crater found between the islands of Maui and Kahoʻolawe. Only three sheltered volcanic calderas still exist in the world! Snorkeling in Molokini crater is like being inside of an aquarium.
The Four Winds II has been operating snorkel tours to Molokini for over 30 years. The beautiful clear blue water and incredible marine life provides you with the best snorkeling on Maui and an unbelievable experience.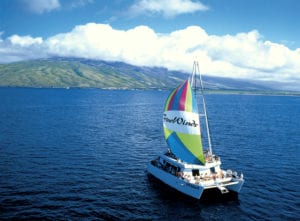 Coral Gardens
Coral Gardens is one of the best snorkeling spots on Maui. Whether you're looking for colorful tropical fish or a chance to see Hawaiian green sea turtles, Coral Gardens has it all.  Located just south of Olowalu and fronting the gorgeous West Maui Mountains, this lush environment allows marine life to thrive.
Maui Snorkeling Destinations
We provide you with the snorkeling trip of a lifetime to some of Maui's premier snorkeling destinations like Molokini Crater and Coral Gardens.  Join us for the best Maui snorkel tour.
* Both tours go to Molokini Crater when weather permits.