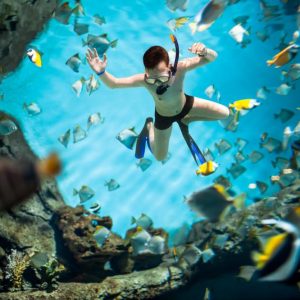 Compare Maui Snorkel Trips
When comparing snorkel trips in Maui you want to make sure you pick the snorkel tour boat that is right for you. Here are the things we offer that makes us different from other tour boat companies. Compare Chart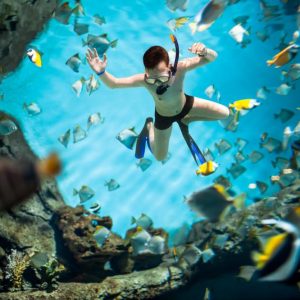 Longest Snorkel Time at Molokini
We snorkel at Molokini the longest out of any other boat tours. Other tours to Molokini crater only spend a short time there. We stay the entire duration of the snorkel trip so you are able to maximize your time and really explore the crater at your leisure instead of being rushed off to other snorkel spots.
Competitive Snorkel Tour Pricing
Our snorkel tour price is the lowest if not most competitive compared to other Maui snorkel tours. We don't believe in price gouging. We offer the best rates without all the hidden fees of other competitors.
Hot Fresh Food
Compared to other Maui tour boats we serve our food fresh and hot. You won't find any pre-made lunches here! All food is made to order on the boat. We grill it up hot daily with fresh ingredients.
The Four Winds II is the ONLY one in Maui to offer a glass bottom room. Other snorkel boats have a small view port but our boat has a total immersion room for you and the kids to enjoy. So you can see fish all without ever getting wet!
Kid Friendly Snorkel Tour
We pride ourselves on being a great family activity while you're on vacation in Maui. Many of our guests really enjoy the fact that our boat offers kid friendly amenities to make your family trip easier. Other tour boats focus on dinner cruises, or whale watches as their main focus. Some of the Maui snorkel tours are more centered around expensive sailing tours instead of snorkeling. But on the Four Winds we make the trip fun for the whole family so everyone can have a great experience. We offer specific gear for all ages, floats, clear bottom floats (designed specifically for the Four Winds boat) and small touches like the waterslide, kids tattoo's, cookies etc.
Choose the best Molokini snorkel trip
When considering a snorkel tour you want to make sure and choose a boat that has experience. Some local snorkel tours just don't have the time and knowledge that our crew and company does. We have been safely operating for over 30 years. We also have very tenured captains on board! As many of our customer reviews will state, the crew and service is exceptional! We have all aspects of the trip covered so you can just relax and enjoy!
Convenient Tour Dates & Times
Our company Maui Classic Charters offers several different snorkel tours daily. We have a larger and smaller tour boat to choose from. For more information on each of our boat tours please see the detailed trip comparisons below.
| | | | |
| --- | --- | --- | --- |
| | Morning Snorkel | Afternoon Snorkel Tour | Adventure Snorkel |
| | Overview | Overview | Overview |
| Departure | 7:30 am – 12:30 PM | 1:30 pm – 5 PM | 7:00 AM – 12:00 PM |
| Trip Duration | 5 hours | 3.5 hours | 5 hours |
| Snorkel Time | 2 hours | 1 hour | 2.5 hours |
| | | | |
| | | | |
| | Book | Book | Book |
| | Food | Food | Food |
| Tropical Breakfast | | | |
| Mid-Morning Snack | | | |
| Hot Grilled BBQ Lunch | | | |
| Cookies | | | |
| Sodas, Water & Juice | | | |
| Open Bar | | | |
| | Sealife & Snorkel Sites | Sealife & Snorkel Sites | Sealife & Snorkel Sites |
| Snorkel with Turtles | | | |
| Dolphin Spotting | occasionally | occasionally | occasionally |
| Whale Watching | seasonally | seasonally | seasonally |
| Snorkel Sites | Molokini Crater | Molokini Crater or Coral Gardens | Molokini Crater & South Maui |
| | Trip Features | Trip Features | Trip Features |
| Cruising Speed | leisurely | leisurely | fast pace |
| Best suited for | all ages | all ages | age 5+ |
| Shade & Cabin Size | | | |
| Glass-Bottom | | | |
| Group Size | medium | medium | smaller |
| Private Restrooms | | | |
| Water Slide | | | |
| SNUBA | | | |