"Can I Snorkel If I'm Not a Great Swimmer?"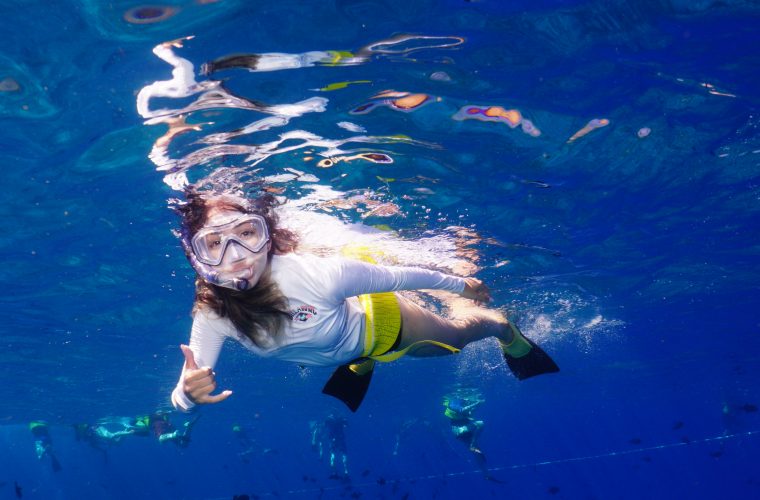 One of the most popular questions we are asked is "if I don't know how to swim, can I still snorkel?" We always let our guests know that we do highly recommend having some sort of previous swimming or water experience, however, if you feel comfortable wearing a buoyancy float belt and can remain calm in the water, you'll be able to snorkel!

Another one of our most asked questions is, "do you carry life vests on board to use during my Maui snorkel tour?" The short answer is yes, we do, but we only distribute them for young children to use during the tour. We do have life vests on board for adults as well, but they are set aside for emergency situations only. The problem with the vests, is that it keeps you up right in the water, which doesn't allow you to lay on your stomach to snorkel.
We have found the perfect alternative to the vest! On our snorkel tours (for older children and adults) we use something called a buoyancy float belt. The belts work very well because there is no constriction around the neck or the arms, and you can lay on your stomach and snorkel! The buoyancy float belts are the perfect flotation device for snorkeling and swimming while in Maui. You'll find that they are very safe and easy to use, and we carry them in multiple different sizes. Our Four Winds II guests not only love our float belts, but they also love our patented Sea Boards! Check out our next blog for more information on our Sea Boards.
A popular add on that is available on all our snorkel tours is wet suit top rentals. Wet suits are great for buoyancy, and as a bonus, they keep you warm! Just ask one of our crew members about this opportunity and they can assist you.