Maui Magic Adventure Snorkel: Afternoon Exclusive Private Charter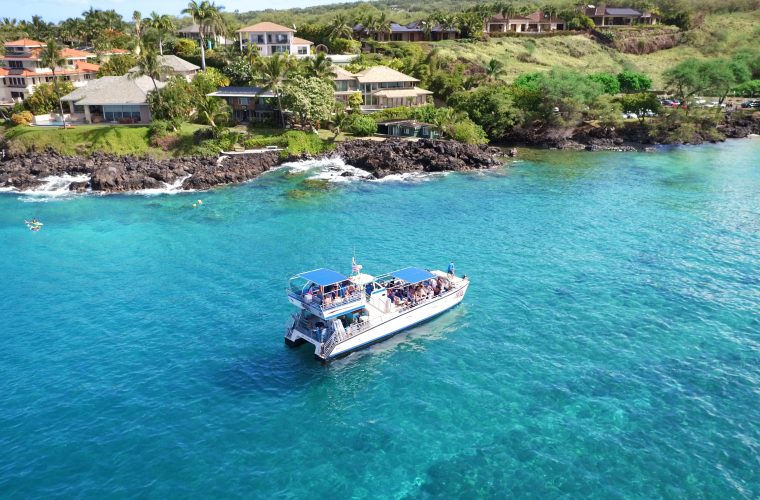 MAUI PRIVATE BOAT CHARTERS: MAUI MAGIC AFTERNOON EXCLUSIVE PRIVATE CHARTER
As of May 8th, 2023, Maui earned the #6 spot for the Best Place to Visit in the World (and the #2 spot for the Best Place to Visit in the US) by U.S. News. It comes as no suprise that Maui was ranked in the Top 10 best places in the world to visit, especially due to its beautiful landscape and amazing beaches.
No matter what you are looking for in a vacation, Maui has it all! Whether you are traveling to Maui for a family reunion, wedding, or just for the heck of it, we have a private charter experience that you will love.
The Four Winds II sister vessel, the Maui Magic, is a 54-foot catamaran made for speed and comfort. Perfect for groups of all sizes, the Maui Magic can take up to 45 passengers.
Our afternoon private exclusive charter is from 1:00 pm – 4:00 pm and is great for snorkeling, SNUBA diving, whale watching, cruising, and more.
The exclusive private charter includes all snorkel gear, flotation, water slide, hot BBQ lunch, crudité platter, sods, juice, beer, wine, seltzers, and mai tai's. If you have at least 6 people that want to try SNUBA, we can even have an instructor come on board to assist you and your guests (cost is $75 per person).
Want to private charter our Morning Adventure Snorkel? Call or email us to check availability! 
[email protected] or (808) 879-8177