Best Snorkeling in Maui – Coral Gardens
Coral Gardens is one of the best snorkeling spots on Maui. Whether you're looking for colorful tropical fish or a chance to swim with Hawaiian green sea turtles, Coral Gardens has it all. Located just south of Olowalu and fronting the gorgeous West Maui Mountains, this lush environment allows marine life to thrive.
Spectacular Snorkel Experience
Coral Gardens is a unique, beautiful natural reef formation that is in a protected bay, on the west side of Maui.  It is home to many Hawaiian Green Sea Turtles and hundreds of species of fish. Coral Gardens is located near the coastline, along the Pali Highway Mountain Pass before Olowalu. Cliff lines surround this cove to protect it from wind and rough seas. This snorkel spot is only safely accessed by boat. It is truly special, because of what lies beneath the surface… the coral formations here and marine life (including turtles) are SPECTACULAR!
With only a few boats at this location, this snorkel spot is more elite and private. With visibility reaching 40 feet its crystal-clear waters and large coral heads make the views for snorkeling breathtaking.
Hawaiian Green Sea Turtles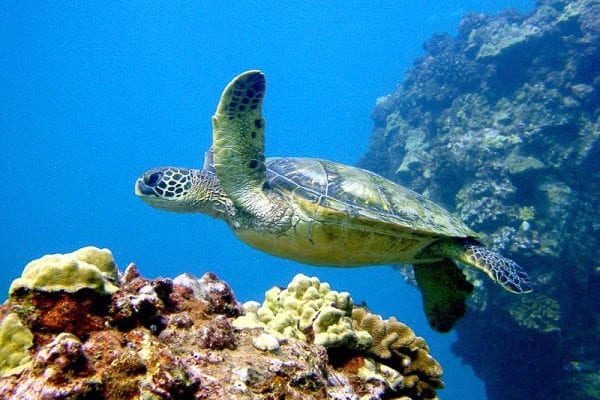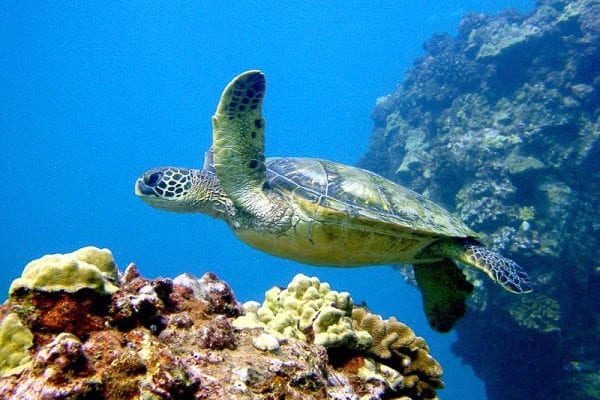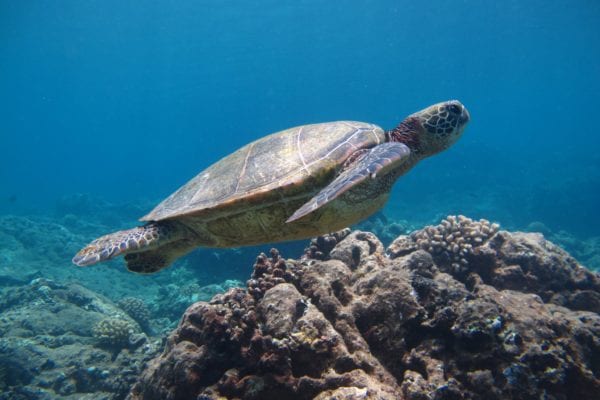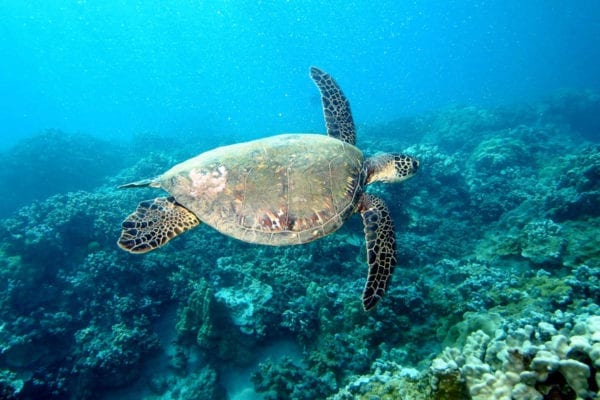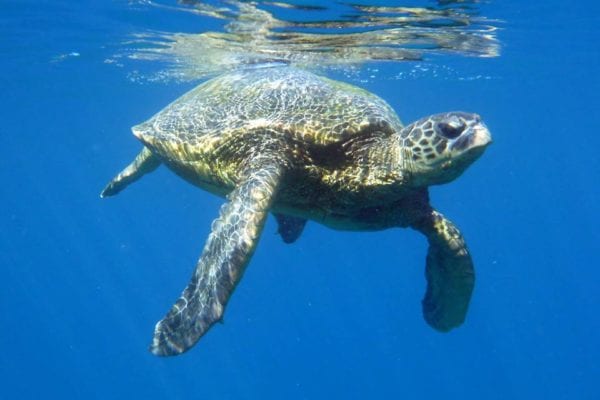 Hawaiian green sea turtles, also known as "Honu" in Hawaiian language, have a lifespan of approximately 60-70 years. Sea turtles can weigh up to 700 pounds, which makes them one of the largest turtles in the world.
The green sea turtles in Maui primarily feast on algae, although juvenile green turtles have been known to eat invertebrates like: jellyfish, crabs, and sponges. This is one of the reasons we typically see turtles close to the shoreline at Coral Gardens or Olowalu.
Hawaiian green sea turtles are listed as an endangered species and were in steep decline during the 1970s because of the harvesting of both turtles and eggs by humans. The population has greatly increased over the last thirty years. Green sea turtles are the most common species of sea turtle found in Hawaiian waters.
People often ask:  "Can you touch the sea turtles?"  Because they are in their natural environment you can swim with turtles in Maui but are not allowed to touch these beautiful animals. We ask that you always stay a safe distance from the marine life.
Marine Life at Coral Gardens
Coral Gardens is home to a wide variety of colorful tropical fish and marine animals. Unlike Molokini, Coral Gardens is located closer to the shoreline. Due to its shallower location and proximity to shore, Coral Gardens provides a much higher chance of getting to snorkel with turtles, and see these beautiful Hawaiian turtles in the water!
Coral Gardens History
Over 500,000 years ago, lava from the Mauna Kahalawai crater flowed down into the ocean creating lava fingers. Now, you can find incredible marine life thriving off the volcanic formations. Coral Gardens is one the best snorkeling locations on Maui, radiating color and life along the ocean floor.
What You Can Expect to See While Snorkeling at Coral Gardens
Prepare to see a breathtaking variety of tropical fish, including triggerfish, angelfish, parrotfish, and butterflyfish. Some of the marine animals you may encounter during your snorkel trip are Hawaiian monk seals, Hawaiian green sea turtles, crabs, octopus, and even eels.
Coral Gardens Facts
Coral Gardens is accessible only by boat.
The tall rock cliffs, of Maui's Pali Coastline, provide excellent shelter making the water calm and clear.
Hence the name, this location teems with a variety of corals and large coral heads.
Green Sea Turtles are often spotted feeding here, along with an occasional Monk Seal.
The protective shelter, all the coral provides at this location, makes this spot home to thousands of fish.
Coastal Living Magazine listed Coral Gardens in their "World's Top 10 Snorkel Sites."
Maui Reef Conservation
The Four Winds II is proud to assist in the conservation and protection of the coral reefs surrounding Maui. We strive to help educate everyone we take snorkeling. We encourage guests to use Reef Safe Sunscreen (also offered onboard all our vessels) and ask you to not touch marine life as it can be damaging to the fragile coral and ecosystem.