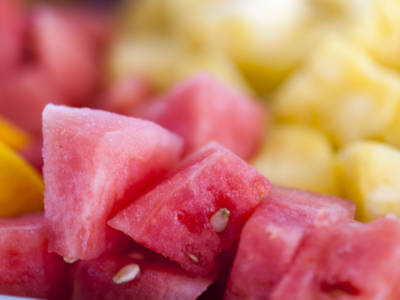 Maui Snorkeling Tours: The Four Winds II and the Maui Magic
Maui is a gorgeous island with so many things to offer. There are many Maui snorkeling tours, but Maui Classic Charters (Four Winds II and the Maui Magic) will be sure to provide you with a memorable experience. One thing that everyone loves to talk about (other than the best Maui snorkeling spots), is the FOOD! Not only do our morning tours come with 2 meals, but they are quite delicious!

The Molokini snorkel tour on the Four Winds II starts off by offering coffee, hot tea, hot chocolate and POG (passion orange guava) juice. Then, help yourself to a delightful tropical breakfast! We serve tropical mixed fruit and assorted muffins on board (KIND bars are available upon request). Once we get to our destination and after you have done some Maui snorkeling, our crew will start serving up our famous hot BBQ lunch. Once you smell that delectable grill, we promise you your stomach will start grumbling! Enjoy a hot BBQ hot dog, veggie burger, our famous marinated chicken breast and pulled pork, served with all the fixing and Maui chips. Are you gluten free? We've got you covered! Our chicken and marinade is gluten free, along with our hot dogs. If you are vegan, please let us know when you make your reservation and we will make sure you have a vegan burger. Enjoy fresh baked chocolate chip cookies on your return to the harbor, along with an ice cold beer or glass of chardonnay.
Our afternoon trip (usually to Coral Gardens) on the Four Winds II is slightly different. We still have a delicious hot grilled BBQ lunch, but it is optional. Our lunch during the afternoon includes: Grilled hamburgers, hot dogs, veggie burgers and marinated chicken breasts. We also have a vegan option available upon request.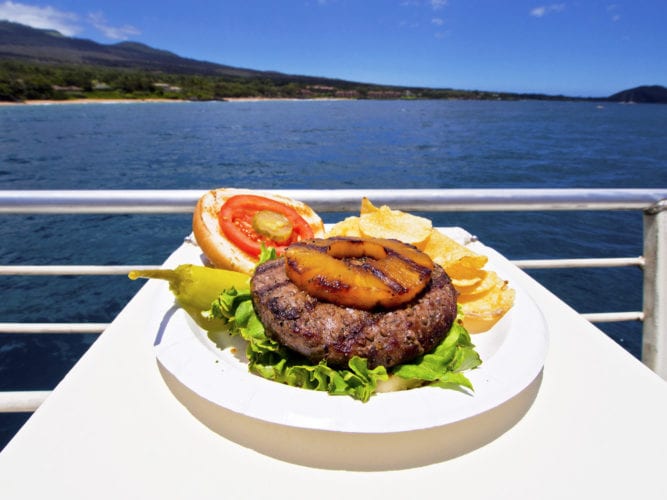 The Maui Magic has a little bit of a different menu compared to the Four Winds. Your morning starts off by being greeted by our lovely crew with unlimited hot chocolate, coffee, hot tea and POG juice. The Maui Magic also serves breakfast consisting of tropical mixed fruit and assorted muffins (KIND bars are available upon request). Enjoy a mid day snack with a fresh crudités platter, including ranch dipping sauce. Our crew takes great pride in the quality of our food, and I promise you the MAUI WOWIE burger will not disappoint! The Maui Wowie is not your average hamburger… We add grilled pineapple slices and a grilled hot dog (fixings on the side). We also offer grilled hot dogs and veggie burgers (vegan burgers available upon request). Enjoy some crispy Maui chips with your meal (and a pepperoncini or two). Once everyone is done snorkeling, we open up the bar and serve beer, wine and Mai Tai's (delicious combo with a fresh baked chocolate chip cookie).
Are you salivating yet?!
No matter which trip you choose to go on, we guarantee you that Maui Classic Charters can show you some of the best Maui snorkeling spots that the island has to offer (and we promise you'll enjoy every meal).