The Four Winds II & The Maui Magic: Compare Maui Snorkeling Tours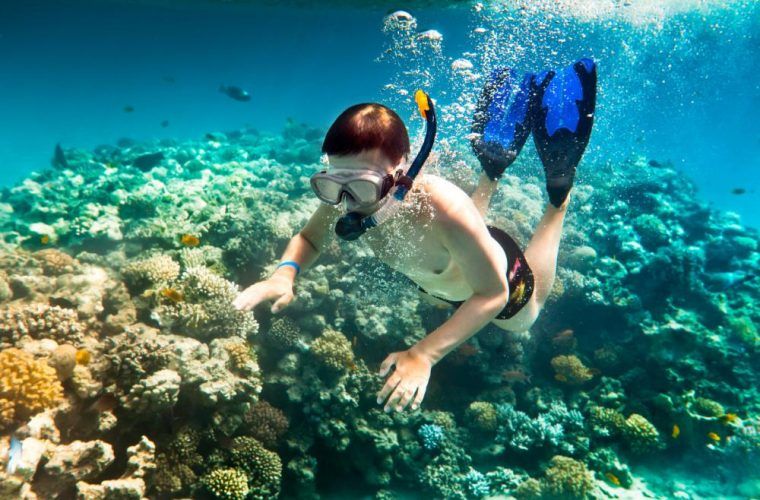 Maui prides itself on being one of the world's best places for snorkeling. So, if you are planning a trip to the beautiful Maui for your next vacation, it's our fair guess that the first thing you are likely to do is to compare Maui snorkeling tours.
After all, you will probably be on a tight schedule and want to ensure that you make the best possible use of your time. As the island attracts a lot of tourists from all over the world, there's no denying that seats will be limited. Add the fact that boat rides fill up fast, and tickets for snorkeling trips sell out even faster, and the last thing you would want is to miss out on the island adventures just because you arrived at the last minute or were late in booking a spot for yourself.
Thus, without further ado, let's go through the different snorkeling tours in Maui so that you can easily choose the one that best suits your needs.
Here at Four Winds Maui, we offer three distinct and comprehensive snorkeling tours that include a range of different offerings and suitable for varying interests and age groups. The trips are designed to help you bring your dream vacation to life, be it an adventurous expedition or just a tropical getaway.
Read on to find what we have to offer and why booking a snorkeling tour in Maui with Four Winds is a smart move.
Scrumptious food, kid amenities, SNUBA, professional video service, and glass bottom room make the Morning Snorkel the most popular snorkeling tour in Maui.
In a total of 5 hours of trip duration, this family-friendly snorkeling tour gives you the best snorkeling experience packed with lots of fun and endless entertainment. The boat ride kicks off with tropical breakfast served on board while cruising to the magnificent Molokini Crater.
Passengers can then jump into the pristine waters to explore the underwater world for as long as they like. Hot BBQ straight off the grill is served soon after, along with chilled sodas, beer, wine, and various juices.
When booking the Morning Snorkel Tour at Four Winds, you can look forward to spectacular sight-seeing during the ride besides enjoying extended snorkeling time at the Crater. Other attractions include turtle watching, incredible views of the Island's coastline and even whale watching (depending on the season).
What makes this tour the go-to option for families is our Four Winds catamaran that consists of a glass bottom viewing room. So, if you have got little ones who cannot yet swim or are afraid of swimming, then you need not worry as they can easily participate in the underwater adventures from the safety and comfort of the catamaran.
Our Afternoon Snorkel Tour is specifically designed to cater to the late risers. Whether you don't like getting up early because you're on holiday or if you woke up late because you partied hard the night before, that's no reason why you should miss out on all the fun.
Book a spot on Four Winds II that leaves after noon but promises an equal amount of fun. Devour a hearty meal of hot grilled BBQ as the boat cruises to Coral Gardens (or Molokini Crater if the weather permits). Upon reaching the destination, you will have the chance to swim with the green sea turtles as well as explore giant coral reef formations and the mesmerizing aquatic life that resides therein.
Snorkeling gear and other relevant equipment are available on board. Plus, our professional instructors accompany the passengers and are always ready to help if the need arises.
The Afternoon Snorkel is the ultimate Maui snorkeling tour to consider if you are looking for a shorter trip but still packs the family fun to make memories. Still not sure? Let's compare Maui snorkeling tours.
Maui Magic is our small but powerful catamaran dedicated for adventurous boat rides. A snorkeling tour on this boat will take you to not just one but two of the best snorkeling spots in Maui. With delicious food and refreshing beverages served onboard, this adventure snorkeling tour in Maui is by far one of the most sought-after tours by anyone who is looking for something fun and exciting.
The snorkeling trip goes to two snorkel spots – first, it stops by the famous Molokini Crater and lets you marvel at the giant crescent-shaped ancient volcanic caldera that rises above the deep blue sea. Passengers can also dive in the cool water and observe brightly colored tropical fish, sea urchins, manta rays, eels and numerous other aquatic species from up close. However, owing to the distance from the shore, you will not find turtles near the Molokini Crater. But no snorkeling trip in Maui is complete without greeting the Hawaiian green sea turtles or Honu as it commonly called. Therefore, the boat goes next to Turtle Town or any other similar spot where you can say hello to these fellows.
Although this snorkeling tour is open for everyone (children above 5 years only), and families can have great fun riding in Maui Magic, this trip is best suited for couples or lone riders as it does not have all the kid amenities. Also, the cruise speed is faster to make up for the greater distance to be traveled and to provide you the maximum time needed to explore the wonders that await you below the sea surface. With a smaller number of people on board, Maui Magic Tour is an intimate and more personalized tour that allows you to relax and rejuvenate as well as have adventurous fun at the same time.
Hop on board Maui Magic to witness the magic in and around the Maui Island.
If you need more information to compare Maui snorkeling tours or want to book your spot today, then visit our website, or you can contact us directly as well.
See you soon for a spectacular snorkeling adventure!