Four Winds Maui Snorkeling Map: Maui's Top Snorkeling Spots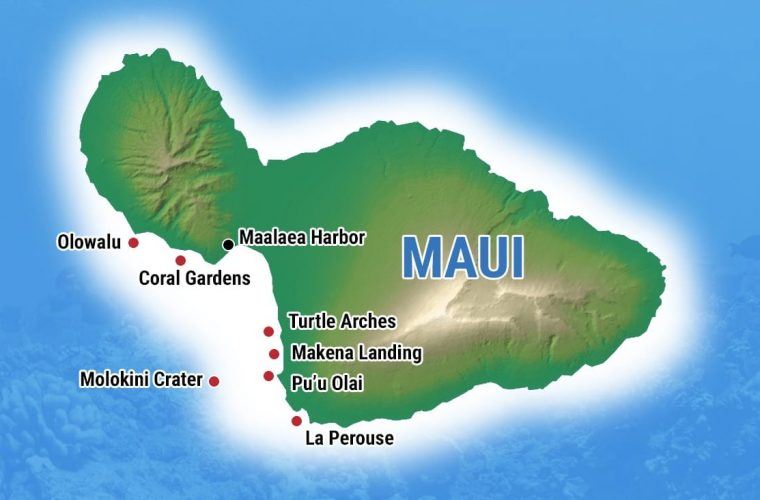 Want to go on a snorkeling trip that you will remember for a lifetime? A trip to Maui promises you just that – and a lot more! Take a seat as we take you through the top spots on the Maui snorkeling map.
With picturesque landscapes, temperate beaches and pristine waters that are home to exotic species of abundant marine life, this island guarantees a fun and memorable time to visitors of all age groups.
Since snorkeling remains the most popular activity in Maui, you might find it helpful to learn about the best snorkeling spots in advance. An all-time hit amongst tourists and natives alike, these beautiful spots are a real gem in nature.
Read on to learn more about the ideal locations for snorkeling in Maui. From the famous Molokini Crater and Honolua Bay to the lesser-known spots on the West Maui shoreline, we cover all the places on the Maui snorkeling map that you definitely need to know (and of course, visit).
In and Around the Magnificent Molokini Crater
Be it snorkeling, scuba diving or SNUBA, whale watching, bird watching or simply witnessing an incredible phenomenon of nature, the Molokini Crater has everything, all in one place.
Located in the middle of the ocean, this magnificent crescent-shaped Crater rises high above the surface of the water and provides a stunning view that is unlike any other place in this world.
In order to get to Molokini, you will have to book a boat ride. Upon arriving at the destination, you can dive straight into the water to say hello to the flourishing marine life. Or take a seat on the deck and drink in the impressive view that lies ahead of you. Either way, make sure to check out the following spots in Molokini.
Tako Flats – A sand channel that contains lots of coral heads. You are likely to observe octopuses and manta rays here.
Middle Reef – This is where almost every species of tropical Hawaiian fish can be easily found.
Shark Condos – Located near the left end of the Crater, Shark Condos is where you will find harmless reef sharks if you can plunge deep down (about 150 feet) below the water surface.
The Back Side – As the name suggests, the Back Side refers to the rear wall of the Crater. This spot on the Maui snorkeling map is a must-visit for skilled divers and adventure seekers who love drifts and diving off steep walls.
Edge of the World – This refers to a specific spot on the outer side of the Crater that is constantly under a shadow. This makes it a unique spot as the constant shadow brings out distinctive species of marine life that cannot be seen elsewhere.
We are currently working on an interactive map for the must-see spots within the Molokini Crater. So make sure to check back soon.
Honolua Bay
Consisting of large, round rocks inhabited by flora and fauna as well as tropical fish and coral reefs where the rocks dip into the sea, Honolua Bay is one of the most majestic places in Maui. From manta rays, octopi and butterfly fish to Moorish idols, yellow tang, and several other exotic sea creatures, you are sure to make some new friends in the underwater world when you visit Honolua Bay.
West Maui Snorkeling Map
Our sister vessel, Maui Magic, travels to La Perouse.
Turtle Arches
Your snorkeling adventure in Maui won't be complete until you visit Turtle Arches. Located near White Rock beach along the southern coast, Turtle Arches is a series of underwater lava formations that offer impressive views of abundant marine life. As the name suggests, this snorkeling site is noted for the frequent sightings of Hawaiian green sea turtles that visitors enjoy on a trip to this area. The underwater rocks have become home to these four-flapped swimmers so if you or your kids are keen to swim with turtles, make sure to visit Turtle Arches.
Olowalu
Olowalu is the largest and most flourishing reef in Maui. Long stretches of epic coral reef formations brimming with an abundance of tropical sea creatures, this place will make you want to build your own home underwater. Snorkeling in Olowalu means you will get an exclusive chance to observe a nursery of blacktip reef sharks as well as a cleaning station featuring manta rays. Since the place is not affected by trade winds, it is the ideal place to visit on windy afternoons when many other snorkeling sites are closed off.
With a pristine oceanfront overlooking a picturesque landscape, the Coral Gardens are one of the best places for snorkeling in Maui. Suitable for all family members, here you can swim besides Hawaiian green sea turtles and explore numerous species of colorful tropical fish. Needless to say, you will also get a chance to observe giant coral reef formations that will simply take your breath away!
Makena Landing
Also known as Five Graves or Five Caves, Makena Landing is one of the finest places for snorkeling in Maui. Featuring diverse topography and plenty of sea caves, the natural landscape of this area makes it the ideal spot for divers to show-off their diving skills. Plunging deep into the water at the Makena Beach will bring you in close proximity to lots of brightly colored tropical fish as well as several small reef sharks (don't worry, they are harmless).
La Perouse
La Perouse is one of the most prized places on the Maui snorkeling map, and the reason is quite simple: a boat tour to La Perouse offers the highest chances of witnessing the playful Maui spinner dolphins. Try to visit this region early in the morning if you want to see an entire pod of dolphins spinning in the air and performing gymnastics on the water surface.
Pu'u Olai
Pu'u Olai is a truly unique place to snorkel in Maui. It is basically a cinder cone or a type of volcano that is visible from almost every place in West Maui. Situated in the ocean, the base of this cone is home to several species of sea creatures. You can find the Hawaiian sea turtles, eels, manta rays and many other types of tropical fish.
Rising almost 360 feet high in the air, this lava rock is famous amongst adventure seekers looking for more thrilling activities after snorkeling. This is because in addition to underwater activities like snorkeling and SNUBA diving, you can also go hiking in this area. Several trails lead to the summit of Pu'u Olai. So, if you are up for hiking, gear up and enjoy the scenic beauty as you climb atop this steep cone.
Ulua and Mokapu
Ulua and Mokapu are two relatively small beaches situated between the Wailea Marriott and the Renaissance. Featuring great visibility and a wide range of different species of tropical fish, both Ulua and Mokapu are a good place to snorkel. This place on the Maui snorkeling map is where novice scuba divers usually practice their moves. The main draw of this region is a string of reefs between the two beaches. One end is great for snorkeling whereas the other is only accessible to scuba divers.
South Kihei
Boasting abundant marine life and family-friendly beaches, South Kihei is a region where you can have endless fun with your little ones in a safe yet great environment. Rocky cliffs lined with coral formations border the Kamaole Beach Park. This park is divided into three zones – Kamaole I, II, and III. Favored amongst the locals, Kamaole I is where you can let the kids run around freely and enjoy other beach activities.
With countless stops on the Maui snorkeling map, each of which holds mesmerizing surprises, choosing just one can be a rather daunting task.
If you want to make the most out of your limited vacation time on the island, get in touch with an expert local tour guide.
Four Winds Maui and Maui Magic have been making fun-filled and memorable trips that give visitors a lot to talk about back at home. With profound knowledge of the ideal snorkeling spots and the right time to visit them, we guarantee you the ultimate Maui experience that you are bound to cherish forever.
Contact us today to learn more!