Why Do Kids Love the Four Winds Maui Snorkel Tour?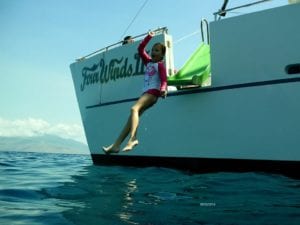 While there are numerous activities available for all ages, "why do kids love the Four Winds Maui snorkel tour?" is a common one. The answer is as simple as the smiles on the faces of the kids we see every day … we offer the most FUN and treat kids like the special guests the precious cargo they are!
From the very young, to the young-at-heart, Four Winds is the boat for the entire family and anyone of every age. All of us at Maui Classic Charters truly recognize how precious each and every moment you have with your children and family are and we know how valuable your vacation time is too. We work hard to provide your family with a trip, and the excellent experience, that will create memories to last a lifetime.
Our Glass Bottom Viewing Room is always a hit with kids and families. You do not even have to be a swimmer to get the sensation of being right in the middle of the snorkeling action, when you sit in safety and comfort and see all the amazing underwater sights, almost like being dry inside of an aquarium.
Take a trip down our on-board WATER-SLIDE! Slide down and it will shoot you out into the clear blue ocean waters. This fun feature is just one of the things that adds to the fun on the Four Winds II.  Once off the slide, there is a swim-up staircase, located on the bow of the boat not far from the slide, that makes it really easy to get back on-board to go down the water slide again for another splash!
Four Winds always has free use of kids-size masks and snorkels, kids-size wet suits rentals (available at our on-board rental store), free use of view port boards (like a boogie board but with a glass port built in so you can see what is below without even getting your head wet), float boards, water noodles, and free snorkeling instruction for kids. Looking for a real family excursion? Come on out and join us for a Maui snorkeling tour today!