Ask the Four Winds II: Top 10 Must Try Local Foods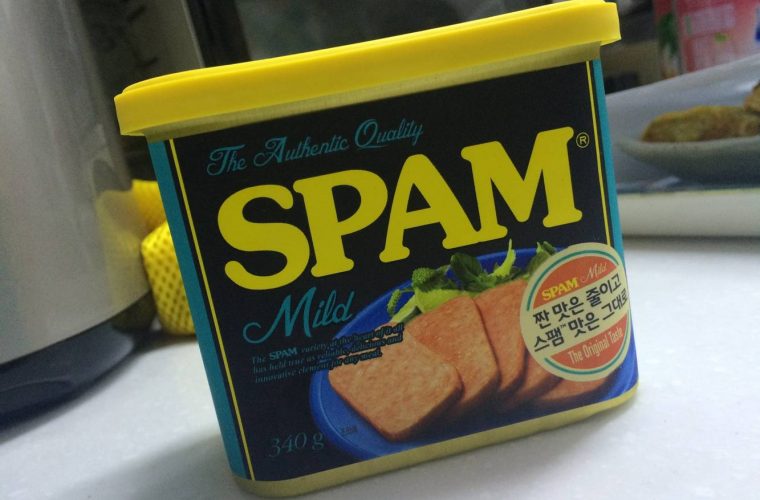 "What is the most popular food" in Hawaii is something many people, friends from other places and visitors to the islands alike, ask me all the time. There are many amazing places to eat and you can go as high (or low) end as you like; however, if you really want to "go local", these are some of the top ten "must try" local foods I would suggest to anyone.
I have to grin (and, to be honest, chime in on conversations) every time I hear someone discussing heading to a fast food chain looking for local food (indeed, Mc Donald's does offer a limited selection but you can do much better … and probably for the same or less money) and likely support a small, local business. Immerse yourself in the culture a bit, keep an open mind and enjoy!
With selections including the freshest seafood, organic fruits and vegetables, free-range poultry and meat, and other locally grown products to choose from along with preparations drawn from places including the Pacific Rim, Japan, the Philippines, Korea, Thailand and more, we have come to enjoy a literal melting pot known as "Hawaiian food".
1 – SAIMIN:  Thought by some to be the "ultimate hangover cure" and others the perfect comfort food, saimin is definitely at the top of the list of local favorites. In fact, it's one of the few dishes deemed truly "local", having been highlighted in cookbooks since the 1930s.
This Asian-style noodle soup was inspired by Japanese "ramen", Chinese "mein" and even Filipino "pancit" or "pansit" and it is so common, that it is one of the few offerings at fast food chains mentioned previously (along with SPAM and Portugese sausage).
Typically, a large bowl is filled with whole wheat egg noodles, homemade fish or chicken stock topped off with egg, strips of green onion, bright pink fish cake and meats like Chinese roast pork, locally called "char siu" and/or SPAM.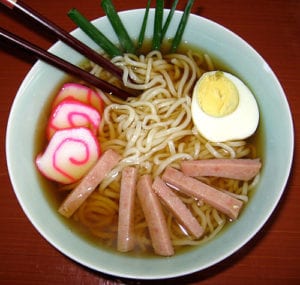 2 – SPAM: While we're on the subject,  SPAM is virtually everywhere here and is one of our local go-to snacks in the form of  SPAM musubi. Fried slices of SPAM are nestled atop a rice patty and wrapped in Nori (dried seaweed sheets). This was introduced back in the plantation days by Japanese field workers.
Annual sales of SPAM in Hawaii are about five million cans and we even host a
SPAM festival in its honor. The spiced luncheon meat gained popularity in World War II days, when fish was rationed. Love it or leave it, SPAM in Hawaii seems to be here to stay!
3 – ISLAND FRESH POKE: There's nothing like fresh ahi poke (pronounced po-kay)! There are probably more preparations than you could imagine but it is basically ahi (fresh tuna) and sometimes octopus (tako) that has been cut into bite sized morsels and mixed with Shoyu (a local kind of soy sauce with a distinct flavor), sesame oil, chili pepper water, green onion and tomato. Some other variations include round onion, seaweed, and sesame seeds. Shoyu is the one apparent constant; however, I love to hit the local markets for samples of all the different flavors. I started using apples in mine years ago and it's a hit!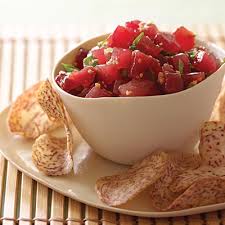 4 – BENTO BOX: The "bento box" also hails back to the plantation days. While workers toiled in the sugarcane fields, they came from places that nobody took a lunch pail with sandwiches to work.
The cultural norm for most of these migrant workers was a lunch box with steamed white rice, pickled plum (ume) to preserve the rice and meats such as fried chicken or fish, probably left over from supper the night before.
I suppose many of us still carry that tradition today all over the world! These days, most stores (especially grocers and convenience stores) sell pre-packaged bentos that you can grab on the go and tend to include more than just rice and meat or fish and are especially popular as kid's lunches in themes. Don't forget your chop sticks!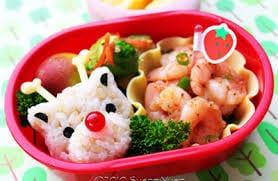 5 – MALASADAS:  The Portuguese immigrants to Hawaii have contributed much to Hawaiian cuisine with sausage, soup and sweetbreads. For many of us, the hands-down favorite has to be Malasadas … hot, deep-fried doughnuts rolled in sugar. Make sure to buy them by the dozen, plain or filled with a variety of fruit compotes, or, more commonly, vanilla or chocolate creams. They are best eaten fresh … like, as you wait to pay!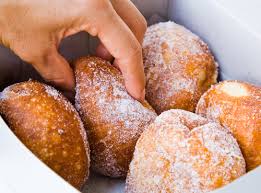 6 – MANAPUA: Another delicious snack that starts with filled dough balls is savory manapua. These lucious little dough balls are similar to Chinese bao and stuffed with fillings such as char siu pork and then steamed (rather than fried, like Malasadas). These can be found in most food stores along with dim sum. Modern-day fillings include a wide array of unexpected items, including curry chicken and other tender meats and veggies. They can also sometimes be found baked, rather than steamed. Almost like a filled sandwich.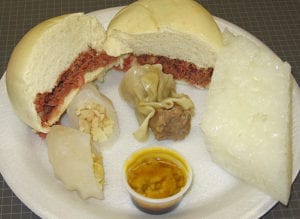 7 – SHAVE ICE:  Snow cone? I think not! This decadent treat  is created with ice shaved to a almost a powdery, snow-like consistency. For many locals and visitors alike, a shave ice is the only thing that fits the bill after a day at the beach or shopping. They are a rarity these days; however, every now and then, you'll find a neighborhood stand that still hand shaves the ice. For a real treat, try it with ice cream (yes, ice cream inside!). Of course, if you've never had one, you should stick with the basics and order a "Rainbow" …. still my favorite after all these years!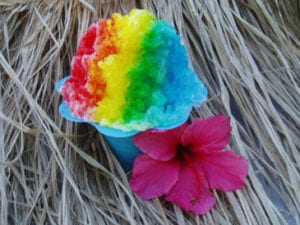 8 – TROPICAL FRUITS: I love the ability to walk right out into my yard and grab a fresh banana and/or papaya for breakfast or a snack. Some vacation cottages will have fresh fruit trees …. take advantage of this and eat up! Locals also love to add their own creative touches to exotic fruits.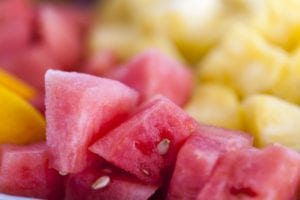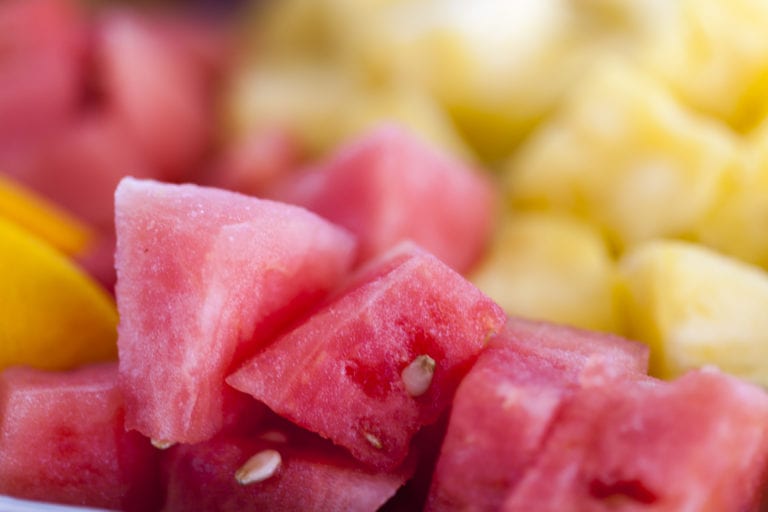 With people here from all over the world, you'll also find a wide variety of unusual preparations such as green mangoes, pickled with Chinese five spice,  Maui Gold pineapples are topped with li hing mui powder and green papaya tossed in a Vietnamese salad.
When you run across stands selling fresh coconuts with a straw, gab one … the water is delicious and refreshing! See unusual looking fruits (like something out of a Dr. Suess book)? Try it! Dragonfruit, Starfruit and Rambutan are but a few of my faves and they're the most unusual things you may ever have seen. Just keep an open mind and dig in … you might just find a new addition to your diet!
9 – CRACK SEED: This is a snack food that originated in China and is highly popular in Hawaii. Basically preserved fruits that have been "cracked" or split with the seed or kernel partially exposed as a flavor enhancement. There are dozens of varieties of crack seed in specialty shops and at the drug stores. Those who like hard candy and salty foods will love li hing mangoes and rock salt plums and those with an itchy throat will feel relief from the lemon strips. Looking for something different to take home for gifts? Check out the variety available in both individual portions and  a variety of sizes of pre-packaged bags.