The Best Snorkeling Tours in Maui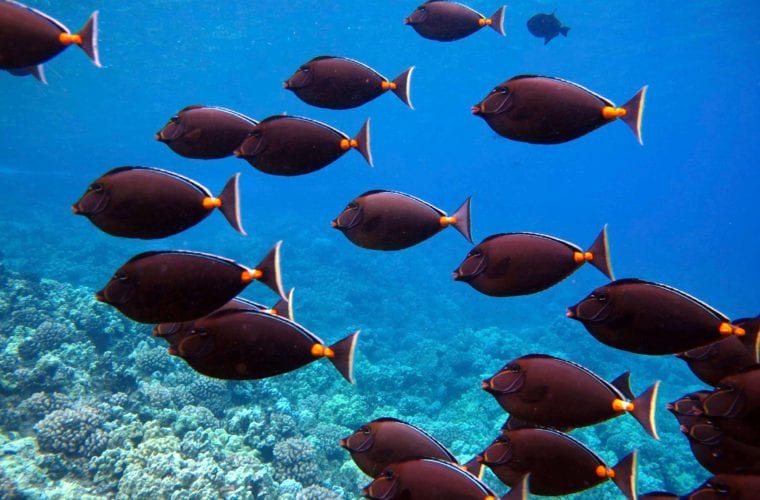 If you have already decided on taking a tropical vacation to the Hawaiian Islands with your family, don't miss out on the best snorkeling tours in Maui. There are several amazing locations within Maui that could well become your favorite vacation spot in the future, especially when combined with snorkeling.
Let us take a look at some of the best snorkeling tours that you could enjoy in Maui.
Molokini Snorkel Tour
One of our favorite snorkeling spots is the Molokini Crater where you can enjoy wonderful water adventures with your family, and interact with marine life underwater. It is a crescent-shaped partially submerged crater in the brilliant blue waters of the Pacific. If you choose to wade in this part of the ocean, you will find yourself enjoying coral reefs with water clarity of over 200 feet. Make sure to get closer to the crater rim if you are snorkeling or swimming in Molokini, so you can meet with a variety of sea animals. If you enjoy boating, you can hire a service to take you across the ocean as well.
Some snorkeling tours available in Maui offer whale watching as an added activity. Some can also take you for a ride in a submarine! So choose your adventures carefully and after thorough research.
Maui's Forbidden Coast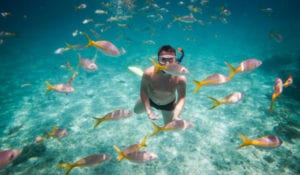 The Forbidden Coast is further away from the towns and city areas, since it is a protected preservation site. If you like smaller crowds and some solitude while exploring marine life, you can decide to go here and still experience some of the best snorkeling tours in Maui.
Another added benefit at Maui's Forbidden Coast are the spinner dolphins that live around the site. You can snorkel, swim close to the dolphins, even stay overnight and watch the sunrise at this heavenly coastline if you manage to get a permit.
Snorkeling Coral Gardens
Coral Gardens is one of the finest snorkeling spots you can choose to go for. Located south of Lahaina and Olowalu, Coral Gardens is home to not only vibrant and colorful algae growing on coral reefs, but also a multitude of fish and other sea animals that feed on them. Some species that are commonly found near Coral Gardens are the butterfly fish, angel fish, parrotfish and triggerfish.
This reef is the perfect spot for people snorkeling for the first time, or people who have brought family and small children. They are sure to enjoy the experience as much as you will.
SNUBA – Great Snorkeling Made Better
If you have snorkeled a few times before and you are confident about your swimming abilities, you can opt for the more professional SNUBA diving. SNUBA is similar to scuba diving, but does not require certification. SNUBA is easy to learn and a more organic way of interacting with the underwater environment. The gear is much lighter than full scuba gear and does not get in your way like bulky equipment does.
Maui Classic Charters have experienced instructors so they can tell you how to make the most out of your experience while keeping yourself sustained underwater. This immersive experience is definitely a way to enjoy best snorkeling tours in Maui.
Green Turtle Watching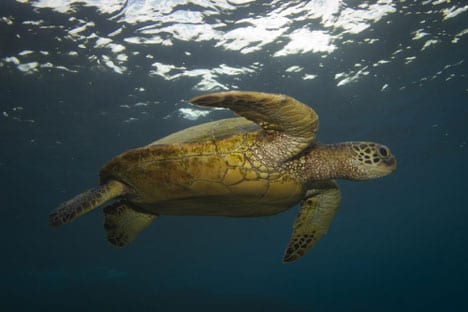 The most commonly found specie around Maui Island is the Hawaiian green sea turtle. At the right snorkel spot, sightings are nearly guaranteed whenever you decide to visit. The best thing about snorkeling in Maui is that you do not have to take out a separate day to go turtle watching.
There are other species of turtles you might be able to spot. Two of them are the Leatherbacks and the Hawksbill sea turtles. While rare, these turtles can also be found in the Hawaiian Islands.
Glass Bottom Viewing Room
There are very few snorkeling tours in Maui that offer a glass bottom boat, but only one that offers a 180 degree view of the underwater world from a glass box. If putting on heavy gear and diving below the waterline does not sound like a fun activity to you, the glass bottom viewing room is for you. You can stay dry and safe inside the plexiglass box, while experiencing teeming marine life all around you.
This activity can turn out to be perfect if you have small children. They can watch turtles, fish, and even other divers and snorkelers from behind a glass wall, and you do not have to worry about their safety at all!
Summary! The Best Snorkeling Tours in Maui
Whether you choose the snorkeling tour to Molokini or the SNUBA adventure, visiting Maui Island for your tropical vacation will turn out to be the experience of a lifetime. Book your tour today and look forward to the marine adventure!