SNUBA Operator of the Year!
Every year SNUBA International likes to extend a special thank you to a select operator for their exemplary performance. Evaluation is based on guest comments, Guide professionalism, tour quality, innovation and overall commitment to the SNUBA program. For 2013 we recognize South Pacific SNUBA as our Operator of The Year. South Pacific SNUBA is based in Maui, HI; owned and operated by Jamie Nygren. For more than 24 years South Pacific SNUBA has been a popular and successfu activity onboard the Four Winds II, a 55 foot catamaran owned by Maui Classic Charters.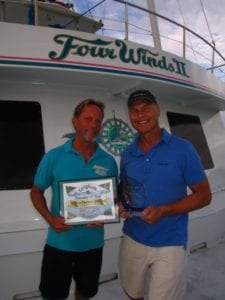 Jamie's involvement with SNUBA began in 1989 following an extended leave of absence from his job as a commercial hard-hat diver. A far cry from his childhood New York stomping grounds, Maui provided new opportunities and the chance to share the ocean with the masses, "I just get a kick out of turning people on to the underwater world and SNUBA is my vehicle of choice" says Jamie. Averaging roughly 200 guests per month, Jamie keeps the guests of Four Winds II engaged and entertained at their various SNUBA and snorkel spots. Be it in the unique setting of the extinct volcanic vent of Molokini crater, the turtle laden waters of Makena Bay or in the colorful reefs of Coral Gardens, there is something for everyone.
Four Winds II integral relations with SNUBA has helped pioneer the Hawaii snorkel charter industry and continues to set standards for quality, value and customer service. "Jamie has been a loyal and trusted member of the FOUR WINDS II family for many years. He has educated and exposed many adventure seekers to the thrill of breathing air underwater and the wonder of the marine environment on Maui.  He is an asset to the Four Winds II adventure experience," says Chip Caldwell, owner of Maui Classic Charters.
Beyond his dedication as a SNUBA operator and Guide, Jamie's background and experience have provided a valuable resource in developing SNUBA standards and preliminary testing with new and updated equipment. Involvement since our infancy Jamie has seen many years and many changes but for Jamie it's still about "the joys of breathing underwater, hanging weightless and at one with the sea, the joy and elation, fascination, the sense of personal achievement – that's what we bring to our guests every day. That's my reward."
Michael Stafford, President and CEO, sums it up this way: "Jamie is a true SNUBA pioneer. If SNUBA had a Hall of Fame, Jamie would be the first inductee. He is a class act."
Discover SNUBA onboard Four Winds II based in Ma'alaea harbor, Maui. With trips offering SNUBA, snorkel and much more twice daily at SNUBA Maui