More Fish on the Maui Magic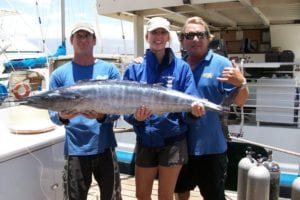 We LOVE to catch fish, and so do the passengers!  We caught a 30 pound ONO (Wahoo) on the Maui Magic on Thursday, just on the outside rim of Molokini Crater.  She took out a ton of line, but the angler (one of our passengers) did a great job keeping up with her.  He got on the reel from the moment she hooked up and kept on going all the way through.  What a trooper!
It was a beautiful day snorkeling in Molokini and then we were off the Coral Gardens for our 2nd snorkel destination.  For one of our little passengers, her ultimate goal for her Maui vacation was to swim with turtles.  She found four while she was out and about at Coral Gardens, and couldn't take the smile off of her face for the rest of the trip.  I love that!  It all adds up to another beautiful day on the Maui Magic!