Meet Our SNUBA Instructors!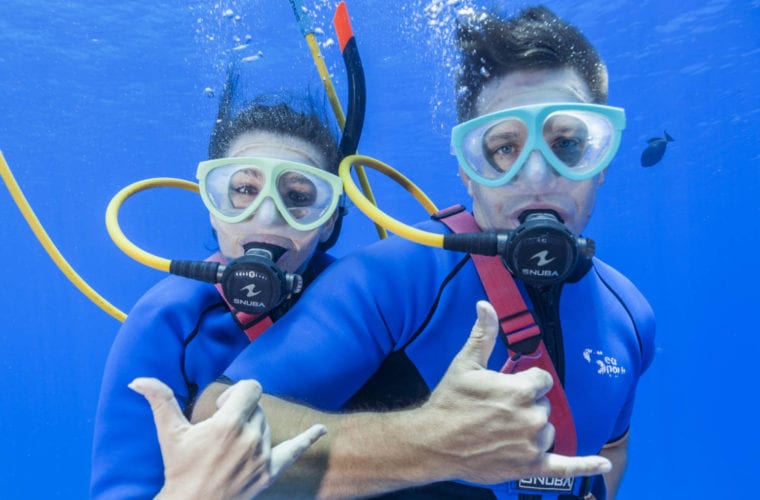 The History of SNUBA: Where Did It Begin?
In 1985, a man by the name of Michael Stafford conceived the idea for SNUBA out of a ski shop in Soda Springs, California. Michael was an avid traveler, scuba diver and snorkeler and realized that there was a large gap between the number of people that snorkel and scuba dive. Michael developed a breathing system that made it easy to introduce snorkelers and non scuba divers to the world that exists underwater. The surface supplied air system allows SNUBA divers to safely explore the underwater world without having to regulate.
What Is SNUBA?
SNUBA (Surface Nexus Underwater Breathing Apparatus) is a unique, patented, shallow water, diving system that bridges the gap between snorkeling and scuba diving. Because tanks and heavy equipment stay on top of the surface on a raft it eliminates the hassle often associated with diving.  You are connected with a constant flow of air via a long hose, which allows you to have more movement and you are never more than a few feet away from the security of the raft floating on the surface. Your depth can be determined by your comfort level whether that be 2 feet or 10.
Am I A Candidate For SNUBA?
You must be at least 8 years of age, healthy and as long as you do not answer yes to any of the questions listed below, then you can SNUBA! Make sure to always be honest with response and to not put your health at risk. Check out the SNUBA liability form before your trip.
Are you pregnant or do you believe you might be pregnant?

Do you have a history of heart attacks, strokes or heart disease?

Have you ever had heart surgery, angina or blood vessel surgery?

Do you have asthma

and

are currently using an inhaler?

Are you currently under the influence of mind-altering drugs or alcohol?

Do you have any form of lung disease?

Do you have epilepsy, seizures or convulsions or take medications to prevent them?
SNUBA Maui and Meet Our SNUBA Instructors!
Chet Atkins 
Chet is originally from Wisconsin (yes, he's a Packers fan) and is a guitar enthusiast. For over 40 years, Chet has been teaching divers how to SNUBA and safely explore the underwater world. We have been lucky to have Chet with us on the Four Winds for 30 years! Chet is a great teacher and can assist anyone in learning how to SNUBA.
Jamie Nguyen
Jamie has been a scuba instructor since 1974 and has taught introductory through advanced dives for many years. After retiring as a commercial diver, he saw SNUBA as a great opportunity to introduce people to the world of breathing air underwater in a simple and fun way. Jaime has been a SNUBA instructor since 1989 and was awarded individual SNUBA operator of the year in 2013. You can find Jaime teaching SNUBA on the Four Winds II.
Marcella Mardajar
Marcella worked first as a crew member on the boat and was always good at getting people that were unsure of the ocean into the water to swim and snorkel. Sometimes she would have guests that would refuse to jump in the water and by the end of the trip, they were not wanting to get out! Marcella has a great love for the water and believes that everyone should have a chance at experiencing it. One of the things that brings her joy is watching peoples expressions after experiencing the ocean for the first time. Marcella takes great pride in the fact that her guests put their trust in her to make sure their family has a safe and fun experience. Next time you go on the Maui Magic make sure you SNUBA with Marcella!