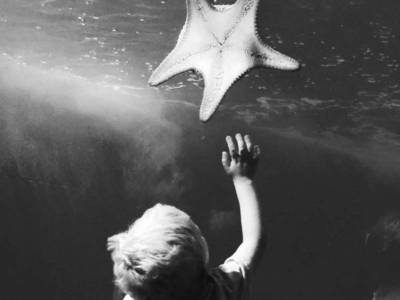 The Maui Ocean Center is located at Ma`alaaea harbor, next to where the Four Winds II and Maui Magic depart for their daily Maui snorkeling adventure. Plan on a fun-filled day with your family by first going out on a Molokini snorkel tour and then visiting the Maui Ocean Center Aquarium. Enjoy lunch at the shops at Ma`alaaea and even check out happy hour at Seascape Restaurant (3-5 pm daily).   The Maui Ocean Center opened in 1998 and has been thriving ever since. Not only is the aquarium a beautiful place to visit, but they also advocate and protect Maui's marine life. The staff is dedicated and educated and love what they do! The aquarium has one of the largest collections of live Pacific corals in the world. Each day, they have 20 presentations by marine naturalists to help educate and answer any questions you may have. Enjoy outdoor tide pools and a 750,000-gallon Open Ocean exhibit, which also has a 240-degree view tunnel. The Maui Ocean Center was recently named one of the "Top 10 Aquariums in the World," according to TripAdvisor's 2018 Travelers' Choice awards. 
Exhibits at the Maui Ocean Center
Living Reef
Maybe you're not much of a swimmer but still want to enjoy the wonders of the ocean; the Maui Ocean Center has plenty for all to enjoy! Home to one of the largest displays of live Pacific corals, experience these beautiful endemic creatures up close. Maui Ocean Center has raised coral colonies successfully in exhibits fed by the saltwater from Ma'alaea Bay. The Living Reef exhibit has over 40 different Hawaiian coral species that have been thriving since they started the project in 1998.
The Open Ocean

Have you always wanted to see a shark live in its environment? Well you can in Maui! Experience a 750,000-gallon exhibit with 240-degree view tunnel. You can witness six species of sharks, stingrays, and tons of tropical fish.
Hawaiians and the Sea
Enjoy learning about Hawaiian culture, history, and traditions that you would of seen in an early Hawaiian village. Learn more about early Hawaiians connection with their surrounding environment, the land and the sea.
Turtle Lagoon
Who does love Hawaiian green sea turtles? Well here's your chance to see them! Hawaiian green sea turtles are native to Hawaiian waters and is the largest hard-shelled turtle in the world. Did you know: a Hawaiian green sea turtle can grow up to 4 feet and 300 pounds?!
Makai Theater
In Hawaiian, "makai" means towards the sea. This 500 square-foot theater has daily showings and is free with admission. The theater can seat up to 30 people and has an HD projector and surround sound. You can view a new film every and have three daily showings (10:30am, 12:30pm and 2:30pm). Make sure to reserve your seat at the park entrance before seats fill up.
So next time you're wondering what you should do during your Maui vacation, remember to come and snorkel Maui on the Four Winds II and then stop over at the Maui Ocean Center! You'll love a chance to spot the marine life you were able to see during your snorkel trip at the Aquarium.