Catch the Sunflowers on Your Way to Your Four Winds Snorkel Tour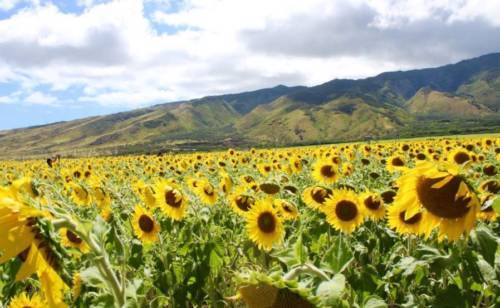 HOLY SUNFLOWERS!
Once known for its sugarcane cultivation, Maui now has a new look. Within the past year, sugarcane came to a halt and left thousands of acres of land desolate, until now.

Approximately 115 acres in Maui's central valley will contain biofuel crops, including the sunflowers that have already blossomed, as part of a demonstration project. The project is anticipated to yield at least 100 gallons of oil per acre. Sunflowers are known for tracking the sun and are "heliotropic" (turning and growing towards the light).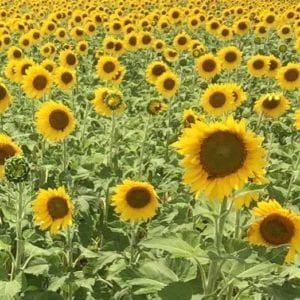 Pacific Biodiesel was founded on Maui back in 1995 to address the health and environmental concerns of the dumping of used cooking oil at the Central Maui Landfill. A&B Properties, Inc., a premier Hawaii real estate company, said their goal is "to get as much of its former 36,000 acres of sugar lands as possible changed over to diversified agricultural operations" (http://www.mauinews.com/news/local-news/2017/02/sunflowers-could -become-mauis-new-biofuel/). The sunflowers are located between Waikapu and Maalaea, on the Kuihelani Highway side. It is quite a site to see, so much that it's causing a traffic backup!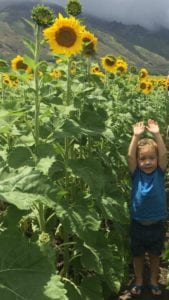 Social media has proven that it is becoming quite an attraction, as many families take a quick detour and stop for some captivating photos.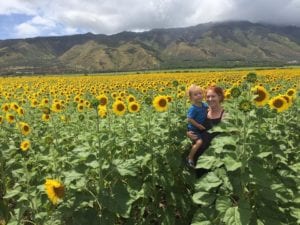 For further information, please check out The Maui News website at: http://www.mauinews .com/news/local-news/2017/02/sunflowers-could-become-mauis-new-biofuel/.