See Dolphins on the Maui Magic!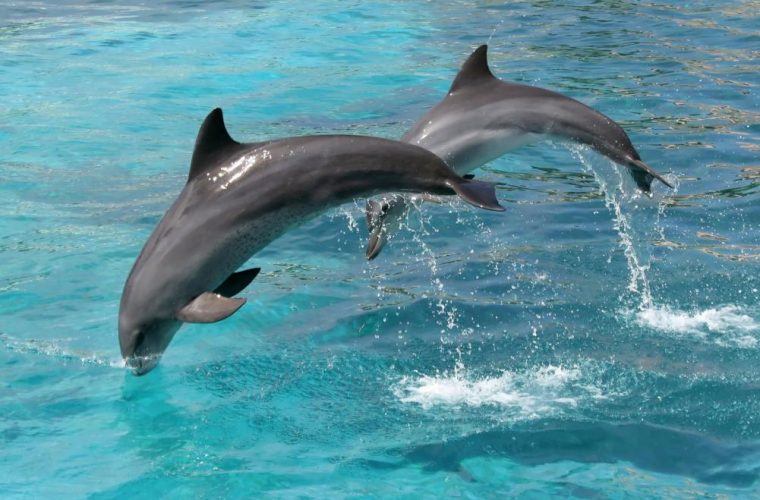 Maui is blessed with its fair share of scenic landscapes, but the main beauty of the island lies beneath the water surface. From the brightly colored tropical fish and the Hawaiian Green sea turtles to the vast stretches of coral reefs and whales and dolphins in Maui, this place promises a lifetime of memories to anyone who chooses to visit.
While whale watching tours remain popular attractions, luring tourists from all across the world to witness these magnificent wonders swimming near the island, it has one shortcoming. The whale watching season lasts only for a limited time period.
If your vacations do not coincide with the whale season or if you are unable to find a favorable spot on time, you need not despair. The dolphins in Maui have got you covered!
These playful sea creatures are a permanent resident in the waters surrounding the island. They will entertain you regardless of the time or season in which you visit their native island.
Renowned for being home to the lively and free-spirited spinner dolphins, Maui is the place where you can easily witness these wonderful creatures in action.
But which area offers the best view of these joyful creatures? Can you swim with dolphins in Maui? What can you expect when you go on tour to see the dolphins?
Let's take a deeper look to find out. The article also discusses lots of other interesting facts about Hawaiian dolphins that will simply leave you in awe of these distinctive sea mammals.
About Maui Spinner Dolphins
Maui spinner dolphins are a relatively small-sized species of dolphins that grow to an average of 5 – 6 feet long when mature. Young spinner dolphins typically measure 2 feet long and are often spotted alongside their mothers, swimming close to their dorsal fins.
Fun Fact: Compared to bottlenose dolphins, spinner dolphins might surely seem smaller. However, the smallest dolphins in the world are the 'Maui Dolphins.' Ironically, they aren't found on the island itself. Maui Dolphins are only found in their native region, New Zealand.
Spinner Dolphins – Do They Really Spin?
Spinner dolphins got their name because of their exclusive ability to, well, spin.
Like all dolphins, they too cannot breathe directly underwater and need to come up for air. But they don't just jump out of the water, take in a breath of air and dive back in – spinner dolphins add their own unique 'spin' to this conventional style followed by other marine mammals. Quite literally, in fact!
Each time a spinner dolphin jumps out of the water, it will spin and rotate and put up a mini-show for the spectators – all for free! These dolphins can spin up to seven times in the air, making the viewers stare in plain astonishment.
Why Do They Spin?
Different marine researchers have different beliefs as to why these sea mammals spin so fast. Some believe that it is a way to remove parasites from their skin, whereas others think that it is the sea mammal's way of communicating with other pods of dolphins.
Whatever the reason might be, you will love to see them perform gymnastics in the water.
The Best Place to See the Dolphins in Maui
Maui is known as the best place in the world for snorkeling. While the abundant marine life and gigantic coral reef formation are two main reasons behind the popularity of the place, what adds to the charm is the chance to see dolphins on the boat ride to and from the snorkeling destination.
When you book a snorkeling tour at Four Winds Maui, you will get an opportunity to observe a pod of spinner dolphins waving at you from close by.
If you are pressed for time and are looking for ways to get the most out of your short trip to the island, look no further than a snorkel tour to the Molokini Crater.
A crescent-shaped ring of lava formed by a volcano, this impressive place in the middle of nowhere is where you can get the best views of the marine life – be it the small tropical fish that hide in the nooks and crannies of coral reefs or the energetic Maui dolphins that shoot up from the water surface and jump high into the air every now and then.
Otherwise, a ride to Lanai is one of the most famous routes for watching dolphins in Maui. You will see these playful marine mammals while going to Shark Fin Cove that is located on the outskirts of Hulopo'e Bay. Alternatively, you can also spot the Hawaiian spinner dolphins near the cliffs between Kamaiki Point and Manele Harbor.
Can You Swim with the Dolphins in Maui?
As exciting as the prospect really is, the fact is that unfortunately, no one is allowed to swim with dolphins around the island.
Trying to swim with dolphins ends up disrupting their sleep cycles. This is because spinner dolphins mostly sleep during the day (they hunt and swim during the night). And just in case you are wondering how visitors can see them diving, spinning and swimming in the daytime, the answer is quite simple – dolphins often do that while asleep!
Like many species of the local marine life, the dolphins in Maui are also considered to be a somewhat endangered species. Special laws have been designed to protect native dolphins, and as such, neither visitors nor tour operators can touch them or go too close beyond a certain level in the first place.
However, there are specific spots around the island where there is a high chance of these joyful sea mammals coming to greet you on their own. For instance, in La Peruse Bay, it is not unusual for a pod of Maui spinner dolphins to surround visitors bathing in the blue water. If you happen to be one of the lucky fellows, it's best to enjoy their presence rather than pursuing them. Sit back and enjoy the company of your newfound friends.
If you can't wait to meet the dolphins in Maui from up close, get in touch with us to learn more about the tours especially based on seeing these exuberant marine mammals.