What a Day is Like on the Four Winds II and Maui Magic: A Crews Perspective
Maui Classic Charters have been running snorkel trips to Molokini and parts of the south Maui for over 30 years! We compiled some of our crew members favorite memories. Enjoy!
Aboard the Maui Magic  October 14th, 2008
Aloha! We couldn't have asked for better conditions on Wednesday as we ventured out on the Maui Magic.  The water was like glass as the power cat cruised across the pacific at about 18 knots.  Haleakala was clear at the summit as Captain Buzz explained that the crater goes up over 10,000 ft. and goes 5 miles below sea level! We came across some dolphins right outside of Makena then conditions were good enough that we made it all the way down to La Perouse Bay.  The passengers got to snap some picture's in front of the last eruption of Haleakala Crater and then we cruised  back down to Turtle Arches for our first snorkel spot.  The visibility was in the 50 ft. range making it ideal for snorkeling along the shoreline.  Everyone got a chance to see the Hawaiian Green Sea Turtles.  A few people even ran into some Spotted Eagle Rays which was a nice treat.  Our second destination was Molokini Crater.  This is a pretty slow time of year so there were only a few boats in snorkeling and by the time we got settled and fired up the grills, we were the only snorkel boat left!  That is definitely one of the things I LOVE about this boat.  We are so much faster then most of the other boats so that by the time we get to Molokini, they are on their way out, giving us the place to ourselves for over an hour!
Windy on the Four Winds! October 21st, 2008
Today started off a bit rocky with the wind blowing north and straight through Maalaea Harbor.  Nothing really new, as Maalaea is one of the windiest harbors in the world!  Captain Tom decided to ride it out and see if the wind would back down and sure enough, when we got out to Molokini Crater it was just fine.  The day went smoothly with our 75 passengers, a nice light load!  October is a great time for visiting Maui.  The weather is consistently nice and there are a lot less visitors, making lots of room both on the boat and in Molokini.  Today was a day for adult "non-swimmers"!  One of the great features of the Four Winds is that we can accommodate a large variety of people.  Our seaboards are an over sized boogie board with a glass bottom giving children and adults alike a chance to see the marine life and not have to put their head in the water.  Of the 5 seaboards we have on board, 4 were occupied by adult non-swimmers having the time of their life.  Most never expected to get in the ocean, much less experience something like that!  They also enjoyed the glass bottom viewing area, giving the people who absolutely don't do water a chance to experience the underwater world.
Memorable Day on the Maui Magic October 28th, 2018
Today was one of those days that I will never forget.  Don't get me wrong, I meet a lot of great people in this job, but today was something special.  Mary is 82, and from the moment she walked on the Magic I knew she was a neat lady.  Her first words to me were, "young lady, I will not be getting in the water today".  I smiled and replied, "we shall see my dear"!  As the morning progressed Iwas walking around meeting all of the passengers when Mary's daughter pulled me aside.  She told me it would mean the world to her and her family if I could somehow get Mary into the water, even for just a second.  "She hates the water so much we can hardly get her to take a shower", she joked!  After everyone got in the water at our first stop (Molokini), I sat next to Mary to chat.   She told me she couldn't swim and had disliked the water from a very young age.  I gave my usual speech about how easy and safe snorkeling is, how you don't have to be able to swim, and even if you go out there for 2 minutes and come back, at least you tried.  She kindly declined, but said that she appreciated the encouragement.  I didn't want to force the issue so I let it go….for now!  At the second dive (Coral Gardens) I gave it one more try.  I walked up to her, gave her a big hug and said, "are you ready"?  She laughed and shook her head no.  It seemed I couldn't talk her into it.  Not 5 minutes later there she was on the back deck in her bathing suit!  I got her set up in the mask and put her on the steps so that she could just peak into the water without actually going in.  Her family was so thrilled they could hardly contain themselves.  Two people were taking pictures, her daughter was crying, and half the boat was watching and cheering her on!  Then out of nowhere, she lunges forward into the water.  I guess she figured it was all or nothing.  I grabbed a boogie board for her to hold on to so that she could release the death grip on my fingers, and I took her for a little tour.  She kept giggling and talking through the snorkel, something about all the fish and how beautiful it all was.  Coral Gardens was the ideal place for Mary to snorkel.  It's shallow, with tons of coral and sea life.   Even better, she doesn't have to go away from the boat to see it, it's everywhere!  After about 10 minutes she had had enough and went back on the boat.  She pulled me into her arms and said that this was one of the best things she had ever done in her life and she owed it all to me.  These precious moments are why I truly love my job.  Giving Mary and her family this experience is something that I will always remember!
A Surprise Visitor on the Magic November 4th, 2008
Last Wednesday started off  to be a normal day on the Magic.  We cruised down the coast and saw some Bottle nose dolphins.  Then we stopped off at Turtle Town and swam with some Hawaiian Sea Turtles.  As our time passed at our first snorkel spot, the wind picked up and our likelihood of making Molokini got slimmer and slimmer.  We pulled out of Turtle Town and made the less then 10 min. treck to Molokini and pulled in to check it out.  Sure enough, the few boats that were left in the crater were rocking a rolling, and there was no one snorkeling around them.  Rather then beating everyone up in the water, Buzz decided to cruise across the bay to Coral Gardens and lucky for us he did! As soon as I tied up the boat, a Hawaiian Monk Seal surprised me and swam between the hulls of the boat.   He must have had a pretty good scratch going, because he kept rubbing his head on the side of the boat.  He hung out with the passengers for at least a half hour, even giving the non-swimming passengers a show.  The seal was at least 5 ft. long and was extremely friendly, however we told our snorkelers to keep a safe distance and not touch him because that could change in an instant!  Our visitor was a great suprise and made the day for our passengers!
Fishing on the Four Winds II November 11th, 2008
On our journey out to Molokini this past Friday, the crew was setting the fishing lines as we usually do, and as usual people started asking what kind of fish we catch and how often.  "We normally catch Ono and Mahi Mahi, but don't get your hopes up", is my reply most of the time!  We've had some great spurts this year and have caught a lot of fish, but lately it's been pretty slow on the fishing front!  In fact, I even told one group it'd pretty much be a miracle if we caught anything!  Sure enough not even 20 minutes later the port side line went zipping!  The crew joked around saying it was probably a towel or net we hooked…no one actually believed we had a fish until the beautiful Ono (Wahoo) got about 15ft. from the boat.  We scrambled around to get the gaff and fish bag and before you knew it, Mauricio had the 25 pounder up on the boat and in the bag!  It was so crazy and unexpected the crew was giddy with laughter!  Of course, the people I told about the miracle fish claimed their fame as the lucky group!
Full of Surprises on the Four Winds II  November 18th, 2008
Today turned out to be kind of a crazy one on the Four Winds do to 3 totally different and unrelated incidents!  The first one was that a huge Manta Ray swam underneath our boat while sitting at Molokini.  Typically, there is too much commotion for these creatures to swim through, but this one must of been curious and made a very special appearance.  The passengers that saw her said she had to have been 5-6ft across!  Incident number two was a new one for the Four Winds story books.  In between our trips a very adventurous pug dog took a nose dive right into the harbor.  Now this dog actually belongs to one of our crew members and a soon as he saw the dog fall in, he himself took a dive into the harbor.  This turned into a very dramatic situation as the crew and on lookers cheered and yelled for the dog to swim back towards shore rather then into harbor boat traffic!  The dog made it back to shore safely in the arms of his owner, and I'm pretty sure she won't be doing that again anytime soon!  Our 3rd surprise was catching a Mahi Mahi (also called a Dolphin Fish) on our way out to Molokini on the afternoon trip.  The all girl crew took on the 15 lb fish and got on board with no problem!  What a day!
The Whales are Here!  December 2nd, 2008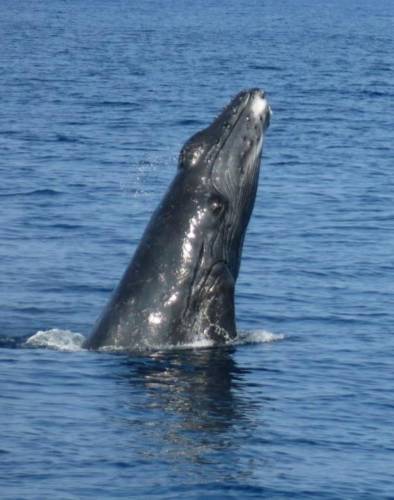 Over the past couple of weeks there have been Whale sightings, but yesterday was a whale show.  We saw 2 groups in the the morning and 3 in the afternoon.  One of which looked to be the beginning of a competition pod with a few dolphins leading the way.  The whales typically start to trickle down in late November and if you see one this early it's a real treat!  Come mid January through March it's like Whale soup out there and the shows they put on are constant.  This is a spectacle that never get's old.  Year after year during the winter our 40-50 foot visitors delight us with tale slaps, fluke ups, pectoral slaps and the ever popular breach.  This 45 ton animal uses it's tale to launch it's body out of the water.  There's nothing quite like it!  Another one of the fantastic aspects of our boats is it's all in one….snorkeling, site seeing, and whale watching!
Weather and the Magic December 16th, 2008
We've had to deal with a little weather this week. Ironically, it's the same exact timing as last years big rain storms. Both the Four Winds and the Maui Magic had to cancel 2 days this week due to the weather…all part of the business! On the Magic we were back in action with an anxious group of snorkelers, finally able to get out on the water. We had an exciting day with whales, dolphins, and turtles. We made it down to La Perouse Bay and had a nice snorkel around "the pinnacle". It's a stand alone reef out in the middle of the bay that is home to lots a fish, eels, octopus and turtles. It's not large area, about 100 square feet, but there's definitely plenty to see! We pulled into Molokini Crater for our second location. The conditions weren't ideal, but definitely do-able! Especially considering the weather we've had over the last couple of days! No one seemed to notice as the majority of the group stayed in most of the time. In fact, we were serving lunch right up to the last minute for the people just coming out of the water. Everyone enjoyed themselves…even the couple that didn't go in the water. They actually called the office after the trip to express how wonderful the crew was and summed it up by saying they had the time of their lives! Now that's a great day!
Christmas on the Four Winds! December 24th, 2008
Tis the season for families and we are definitely seeing signs of the holidays with their arrival.  On the Four Winds we have a unique opportunity to provide people with all ages and abilities a chance to experience the Marine life that Maui has to offer.  For the non-swimmers we have our glass bottom built into our port side hull.  With the water so magnificently clear at Molokini it gives people that just can't do water, a chance to see some fish and wildlife!  The next step up would be the sea boards.  These are an over sized boogie board (or mini boat) that has a plexi-glass box built in.  The sea boards can hold both children and adults and are a great way to see the reef without getting your head wet.  They are pretty much a wagon for the water, so mom and dad can still snorkel and just pull the kids around!  They are fabulous!  Finally, we have snorkel gear for everyone including 3 different size of mask, optical masks with the prescriptions built in, fins from children size 8 to men size 15, 3 different size float belts, boogie boards for that extra help in the water, and wetsuits to keep you warm from size x-small to 4 x-large.  The swim steps are wide and easily accessible with railings on both sides and steps that go down into the water for easy entry.  Of course, the best way to enter the water is by the water slide on the port side or a cannon ball from the open gate on the starboard side! To really see how great the day is with our excellent crew, lively music, unbeatable bbq lunch, and all the activities….well, you just have to bring your family and come out and join us!  From our family to yours, Merry Christmas!
World Travelers on the Maui Magic December 30th, 2008
The holidays always brings visitors from all over the world.  Christmas Day on the Maui Magic was no exception!  We had passengers from Finland, Spain, Korea, Canada, India, and the Middle East all on the 54ft power catamaran.  It was an awesome experience sharing Christmas with people that have different ways of celebrating and different beliefs!  We had a beautiful day on the water with a cool whale show, dolphins and lots of turtles.   Molokini was stunning at first but got a little bumpy as the wind picked up in the bay.  We left Molokini and headed towards Turtle Arches hoping to find some calm water and we sure did..it was perfect.  Everyone had a chance to see turtles then eat their bbq lunch.  It ended up to be a very Merry Christmas on the Maui Magic!
Overcoming Fears January 13th, 2009
It was a beautiful day on the water last Thursday with a sunny sky and calm water.  We had a fun group of people with us including a family with 3 young boys and a woman who was terrified of the water.  We stopped at Turtle Arches for our first stop so that everyone had a chance to swim with some turtles.  After a bit of convincing, we were able to get the young woman into the water.  She had 2 flotation belts snapped on, a boogie board, and a death grip on me as I eased here into the water.  After about 15 minutes of a white knuckle grip on my arms, she relaxed and enjoyed the the water.  We pulled into Molokini for our second snorkel and this time Jason jumped in with the woman who was at this point, loving the water.  She was much more relaxed having gotten through the torturous first experience, so he was able to dive down and point out some fun things.  One of the creatures he was able to get a hold of was an octopus.  He brought it to the surface so that everyone could take a look.  Now, the octopus wasn't too happy with Jason for disturbing him, and even though he had initially excreted most of his ink when he tried to get away, he had just enough to nail Jason right in the face when he got him to the surface.  Pay back for the unwanted attention brought on eight legged creature!  The 3 boys went nuts with excitement at the sight of the little guy and everyone got a huge kick out of the black ink all over Jason's mask!  After the show, Jason placed the octopus safe and sound back in his hiding place.  It was so cool!
The Four Winds II Gets a Show! January 20th, 2009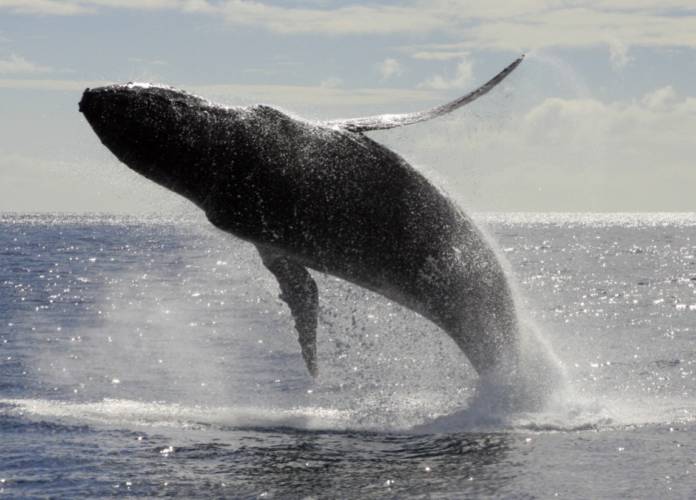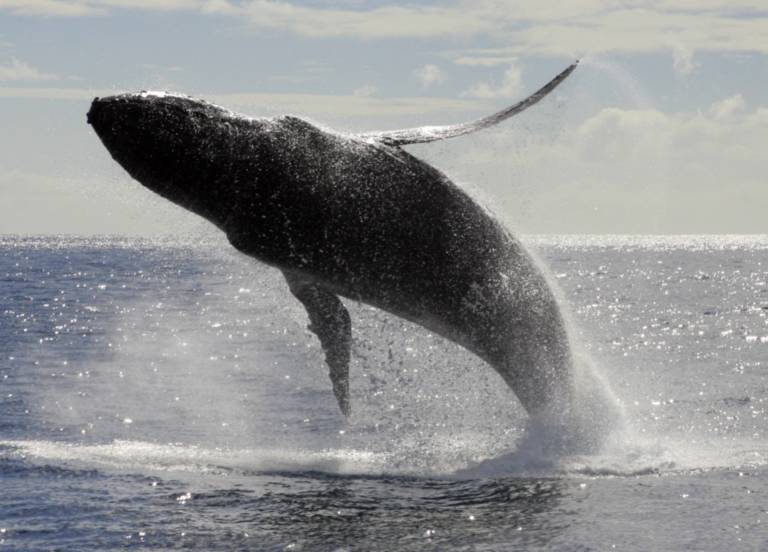 Whale season is definitely in full swing here in Maalaea Harbor and all of the boats are getting a piece of the action.  We were lucky enough to see a TRIPLE BREACH on the afternoon snorkel trip last week.  It was absolutely out of this world.  To see one of the 45 ton animals come out of the water into the air is amazing, but to see three at the same time is beyond words.  The mother, calf, and escort (male whale, not necessarily the father) were cruising around having a good time with each other.  The calf would breach a couple times, then the mother gave us a pectoral (side fin) slap, and then they all disappeared.  Not 30 seconds later all three were up in the air at the same time receiving an ear deafening applause from all the passengers and crew on the boat.  It was truly one of the most beautiful things I had ever seen!
A Windy Week in Maui January 26th, 2009
This week was a windy one in Maalaea Bay!  We had anywhere from 20-30 mph winds from both the north and the east, making Molokini Crater one big washing machine!  This was one of the few times throughout the year that we weren't even able to snorkel in there, it was just too nasty.  Rather then beat up the passengers we took them to a huge reef called Coral Gardens.  It's located under the West Maui Mountains, hidden from the wind.  The visibility was as good as Molokini ever is, and there are always a ton of fish and other wildlife there.  Snorkelers reported seeing turtles, eels, octopus, and a variety of reef fish.  Everyone had a wonderful time, and how could they not?  The sun was out, the breeze was pleasant, and the slide was an immense hit!  One other plus to Coral Gardens, because it doesn't take as long to get there, there is more time for Whale Watching…yeah!
Winter Wonderland February 17th, 2009
Well maybe not quite, but we've definitely been experiencing some much cooler temperatures in the mornings!  I know, I know, this is nothing compared to the midwest or Canadian winters, but for Maui, it's chilly!  We have coffee, tea, and hot chocolate to warm the bones when you get on board.    It warms up when the sun comes out, which is usually by the time we get to Molokini.  Everyone ends up in their shorts and tank tops, but layering in the morning is a really good idea for this time of year!  The water temperature is in the low 70's, which we refer to as "refreshing".   Don't worry, we have  wet suits available which definitely help with keeping you warm while you are in the water snorkeling!  A beer and a burger, while sitting in the sun is another key to warming up!
What's Up with the Weather?!? March 3rd, 2009
We finally received some reprieve from the wind today after have  7 days of 25 mph winds with 30-40 mph gusts!  This morning, the passengers on the both the Four Winds II and the Maui Magic were able to enjoy snorkeling in Molokini Crater after a few days of snorkeling at our alternate spots.  Fortunately, La Perouse, Secret Spot, and Coral Gardens all had amazing visibility and conditions all week, so everyone was able to enjoy their time on the water.  Plus, the whales make every trip exciting with all the shows they put on for the boats.  As we were moored up at Coral Gardens, a mother and calve were around 100 yards from the boat hanging out playing with each other almost everyday we were there!
Fortunately, Maui doesn't get hit with bad weather all too often, so we were happy to get this spell out of the way!
Epic Day! April 28th, 2009
Yesterday we experienced what we on the boats would classify as an epic day snorkeling at Molokini Crater.  The crater was flat as a board, the visibility had to be over 150 ft., and there was plenty of space to explore with fewer numbers on all of the boats that spend part of their morning at Molokini.  We saw a few whales from a distance on the way out, which considering the time of year was very fortunate.  Then on the way home we stopped at our normal Sea Turtle spot and were mugged by dozens of them.  At one time we were surrounded by 6 turtles, then before you knew it, one would go down and another in a random spot would pop up!  It was fantastic!  You know the passengers are loving it when after the snorkeling, sunning, sliding, eating, and drinking all morning, they still have the energy to get up and cheer as the turtles peak up to say hello!
Mission Accomplished on the Maui Magic May 12th, 2009
One of the wonderful aspects of what we do, is seeing people step out of the comfort zone and end up having the absolute time of their life!  On the Maui Magic last week, I had an amazing woman join us for a "boat ride".  After explaining to her that this was a snorkel trip, she told me she really wasn't the swimming type and she hadn't even bothered to bring a swimsuit.  I told here that it didn't matter, I would help her out in the water clothes and all!  She chuckled and made her way towards breakfast.  We stopped at Turtle Arches for our first snorkel destination where most of the passengers were able to swim with a couple of Manta Rays and lots of Turtles.  After my "boat rider" heard this, she got a little excited and said that next year, for her 78th birthday, she would join me on the Magic again, and we would snorkel together!  At Molokini Crater, I gave it one more shot and egged her on a bit to see if I could change her mind.  She, of course said next time, but she was already looking forward to it.  With only 5 minutes left in the trip she came bursting through to the back deck yelling for me, saying she was going down the slide!  Before we knew it she was in the water fully clothed and laughing hysterically.  I jumped in with a mask to give her a chance to check out the fish and wildlife for a few minutes and then we had to go.  As she climbed on board with a smile stretching all across her face, she screamed THANK YOU…THAT WAS THE HIGHLIGHT OF OUR TRIP IN MAUI!  I received about 15 hugs throughout the 30 minute trip back to Maalaea Harbor.  She claimed I was her inspiration and that she would never forget me!  I won't forget you either my dear, and I will see you next year!
Fantastic Weather May 26th, 2009
This past week or so we have been absolutely spoiled by the weather here in Maui!  Molokini Crater has been flat as a lake, giving us the opportunity to make it out there both on our morning and afternoon snorkel trips on the Four Winds II.  The Maui Magic has made it out past La Perouse and all the way down to what we call our "Secret Spot" numerous times, which is amazing since we only get out there between 30-40 times a year!  Snorkeling and/or doing Snuba at Molokini Crater when it is so flat and so clear, is one of the best experiences you can have out here in Maui!  The visibility reaches well over 150ft and with the sun out, making the entire crater just come to life!  It's truly magnificent!  We have had the pleasure of a large amount of repeat customers both on the Four Winds and on the Maui Magic this May.  (I've especially noticed  on the Maui Magic.)  People are catching on that May is a fantastic time to visit Maui due to lower numbers on the boats and great weather!  The only downfall is that the whales are all gone…we'll sure miss them over the next few months!
Whale Soup! March 10th, 2009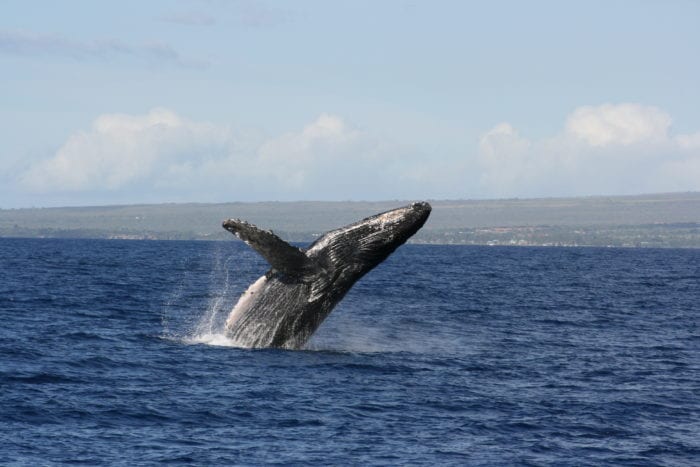 It's whale soup out there!  There is absolutely no doubt that the whales are enjoying their time in Maui as they play around in Maalaea Bay .  Sorry guys, you HAVE to go on a whale watch even though we are a snorkel trip, I know, your so disappointed!!  We've been seeing a lot of infant whales throughout the week meaning there will be a lot of action going on with tale slapping, slashing, and breaching in the next couple of weeks.  All of these behaviors are learned by the mother.  She will demonstrate the action to the baby and they'll start practicing from her example.  This gives all the excited watchers a chance to get their cameras ready as the baby will "do their thing" over and over again!  Fortunately, the wind has died down some so we can see even more action on the calmer water!
The Spring Breakers Are Here! March 17th, 2009
The families have arrived and we can sure tell on the boats with the increase of children's fins and masks we are handing out along the way!  March is our spring break season and I love this time of year!  It's so fantastic seeing swarms of families and how they interact and manage their vacation.   We had one particular family on the Maui Magic the other day with a little girl named Audrey.  The last time she had been snorkeling in the Caribbean she had been stung by a jellyfish and was absolutely terrified of getting in.  After a bit of coaxing and giving here a special "super suit" (wet suit) that would protect her from all jellyfish, she was willing to give it a try.  We jumped in the water together and before she new it she wasn't even thinking about getting stung anymore!  We were tied up at Puuolae which is really great snorkeling for turtles and big schools of fish!  In fact, one huge male turtle swam right underneath us for a great show for Audrey!  By the time we jumped in to snorkel at Molokini, Audrey had all her confidence back and she had no problem swimming around with her family!  And THAT'S why I love my job!!
It's been a great summer so far, and with it coming to a close, we've had a lot of families taking advantage of our beautiful island of Maui before school starts up again.  One particular family spotted my blog and decided to come check us out.  (I kind of feel famous!)  I know the kids, Jillian and Sammy, had a great time!  They helped the captain drive on the way out to Molokini, were practicully fish in the water snorkeling around, took full advantage of the slide,  devoured the bbq lunch, and of course helped us find some turtles on the way back.  It's so fun being a part of a family vacation and enhancing their experience!
Summertime in Maui August 4th, 2009
We've had so many beautiful days over the past couple of weeks, even with the hurricanes looming  to the south of us…we are so very fortunate!   I can't help but think about the fact that it is ALREADY August and our summer is nearly gone.  The whales will be back in the Hawaiian Islands in a blink of an eye, and we will be staring at them in awe just like every time the visit us!  We are so spoiled aren't we?
Now here's a tip all you wanting to get away from the daily grind…September is a fantastic time to travel to Maui!  The weather is great, and you will most definitely enjoy small crowds throughout all the activities, restaurants, beaches, and resorts!   You can also find some real steals on airline prices so get booking!
September Snorkelers September 1st, 2009
One of the common questions we get is about Maui's slow season….is there one?  As a matter of fact, we are in it!  Our passengers are enjoying both low numbers on the boats and less boats in Molokini Crater!  Other slower parts of the year include September, early May (everyone is waiting for summer vacation) and early December (after Thanksgiving and before Christmas).  These three times of year are a really great time to visit Maui.  Hotels and airlines are usually throwing out some great deals, and all of the activities are available on pretty much any day you choose!    Temperatures stay about the same through the whole year and the snorkeling is fantastic year around, so off season is the perfect time to relax in paradise!
A Smile That Makes you "Smile" September 22nd, 2009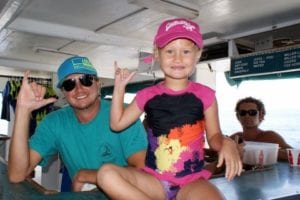 Isn't it wonderful when you come across someone that is so intoxicating, you can't help but be as happy as they are?  I came across just this person the other day on the Four Winds.  She was a little blonde haired girl name Corinn.  Her smile and laughter was so infectious, she had the entire boat wrapped around her finger after just a few minutes.  At age 7, this was her first time snorkeling and she was ecstatic about the challenge.  She was the first one off the boat with her mom and dad in tow.  They could hardly believe their eyes as she took to it immediately .  You could hear her laughter and screams of excitement through the snorkel, again making everyone laugh along with her.  After about 45 minutes she was worn out, so she jumped on the boat for a bite to eat.  She ate her hot dog as she played 50 fish questions with the crew and in no time at all was ready for round 2.  This time she decided that since she was so good at snorkeling, that it was safe to bring her baby doll "Bell" out to give it a go.  After about 10 minutes she realized that poor Bell filled up with water so she had to come back to the boat.  Have no fear, Corrine assured me that she saw lots of fish in the 10 minutes!  By the end of the trip I was getting the best bear hugs I have ever received along with a promise that our little friend Corinn was coming back to visit.  I sure hope so!
They're Back! December 9th, 2009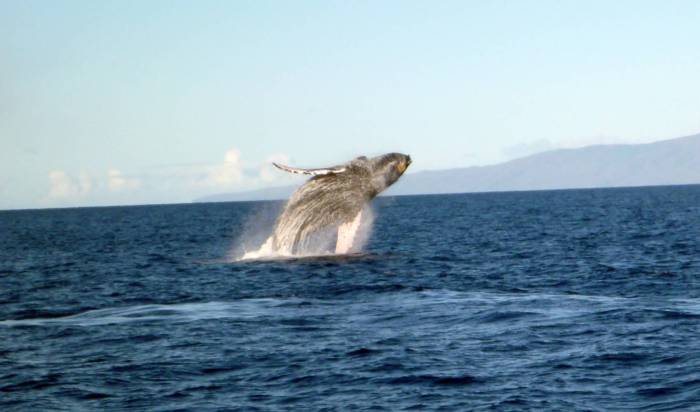 Our wonderful Hawaiian Humpback Whales have returned to Maalaea Bay, and all the folks enjoying our snorkel trips are now enjoying some whale watching as well.  Both of our excursions, the Maui Magic, and the Four Winds II, keep their trips pretty much the same throughout the whale season.  The difference is that we get to see the whales while en-route.  It may take us a tad bit longer to to our destinations, (Molokini, La Perouse, Turtle Town, Turtle Arches, etc.), but it's well worth it to see the whales in action.  The whales visit us from Alaska during the winter months to give birth and mate.   In no time at all, we'll have baby whales breaching and tail slapping to get their strength up for the big trip back up north!  For the real whale action you want to be here somewhere between mid-January to mid-March, but even now we are getting some pretty spectacular shows!  There is nothing quite like seeing a 45 ton animal leap out of the water…I love whale season!
Happy New Year January 4th, 2010
As we bring in the year 2010, the Hawaiin Islands also bring in the Humpback Whales, and boy are they bringing in a show!  Their seems to be more whales then previous years already and they are all about "showing their stuff".  The other day on the Maui Magic, we had 2 juvenile whales breaching like crazy.   It was as if they were doing their morning exercises and wanted us to join in!  After about 10 minutes we finally just had to leave to make sure we got our passengers some snorkeling time.   While snorkeling in Molokini, or any snorkel spot for that matter, if you dive down even a few feet you can hear the whales singing and making their noises.    The passengers that go for the SNUBA option really get a treat as they are serenaded throughout their entire dive!   The new year has also graced us with some amazing weather.  Sunny skies and 80 degree temps spoil us everyday….sorry you poor Midwesterners!  Get out of the snow drifts and get out here to Maui!
Surrounded By Dolphins February 2nd, 2010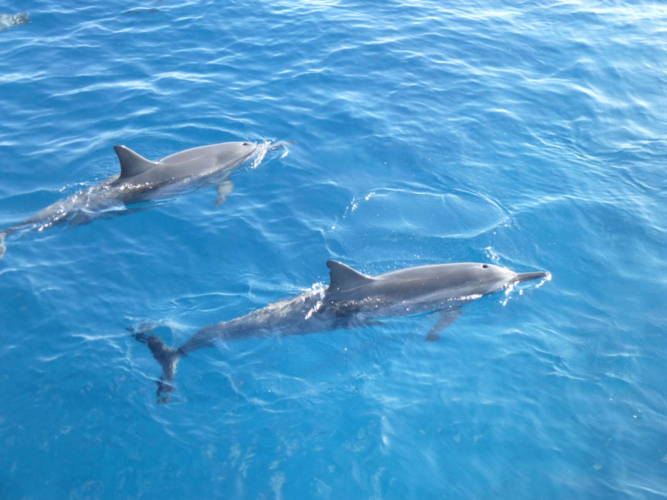 We were out cruising down the southern coast on the Maui Magic, just another beautiful day in Maui, and a pod of Spinner Dolphin joined us right in front of Big Beach.  The Spinner is a small dolphin found in off-shore tropical waters around the world. It is famous for its acrobatic displays in which they spin as they leap through the air, hence the name "Spinner"!
The Spinner Dolphin is usually dark gray, with a creamy-white patch on the belly.   Their beaks are distinctively long and thin, with a dark tip and their fins are lengthy for dolphins of this size. Adults vary in length from 51–93 in and weigh from 51–170 lbs.  Females reach maturity at four to seven years and males require seven to ten years.  They are quite social both with each other and the boats.  In fact you can often find them taking a ride on the boats' bow-waves.
Dolphins echolocate and communicate using click-whistles and pulsed sounds which you can sometimes hear when they are right next to the boat. Echolocation allows the dolphins to track objects in darker water and to see further than their eyes will allow.  Spinners can actually identify themselves with sounds they make by trailing bubbles from their blowholes and sounds called signature whistles.  You will also see Spinner dolphins communicate by slapping the water with various body parts.
On the Maui Magic we see dolphins multiple times a week.  Most times the will be swimming along our bow or doing acrobatics just a few feet away.  It's quite a treat!
A Fantastic Whale Season April 20th, 2010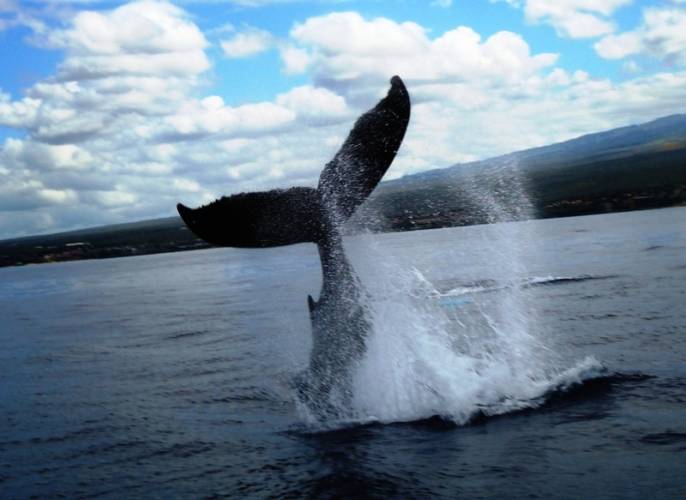 We are now at the "tail" end of whale season, and what a season it has been?!?  The numbers increase every year, making 2009/2010 the best year yet.  It's was a tremendous season, like whale soup out in Maalaea Bay!  We still get a glimpse of the late bloomers, but it's more like right place right time to see them.  We've been hit by a cold front over the past week, making it a little breezy out there.  Not that it stops the newborn whales from getting their exercise for the trip North!  They are collectively on their way back up to Alaska to their feeding waters.  It's always a bit sad to see them go, but I suppose we can give them a break.  After all, how would you like not eating for over a month?  Have no fear, just a few summer months and then they will be back in full force.  They are absolutely magnificent creatures, and Maui is so lucky to have them as guests for over 5 months of the year!
What Do I Do? March 16th, 2010
I got a call in the office the other day, from a very nice woman who was completely exasperated.  As soon as I answered the phone, "Maui Classic Charters, this is Katie", she asked me, "there are so many activities to chose from, just tell me what to do Katie!".  I went through the options we have for our snorkel trips on the Four Winds II and the Maui Magic, but then finished by telling her that I thought her family would love the Maui Magic and that they should go out with me on the day I work, so I could take care of them!  Relieved and anxious she signed up and mentioned that one of the other moms coming with the group was not so sure about snorkeling and would need a little encouragement.  I told not to worry, I was her girl, she'll be in there loving it in no time!  The morning of the trip it was like we'd been friends for ever!   The two little girls of the family, Caroline and Jessica, were two of the sweetest kids I'd ever met.  They are cousins and best friends, and after the first 5 minutes of the trip, my little cheerleaders!  Their laughs, cheers, and giggles were contagious as the saw whales breaching, dolphins swimming under the boat and turtles bouncing around the the surface of the water.  At our snorkel destination, as promised, I had the hesitant Mom in the water at Molokini Crater after about 5 minutes.  She had an absolute blast and was one of the first ones in the water at the 2nd snorkel destination, Turtle Arches.  The girls were a very different story, they were fish from the get go.  In first, screaming with excitement through their snorkels, and then sliding maniacs at the 2nd stop.  They even had me going down the slide and doing jumps off the bow!  (Have I mentioned that I love my job!)  By the end of the day we were practically family with hugs goodbye and promises of the soon return….I truly hope so!
Mantas on the Maui Magic September 20th, 2010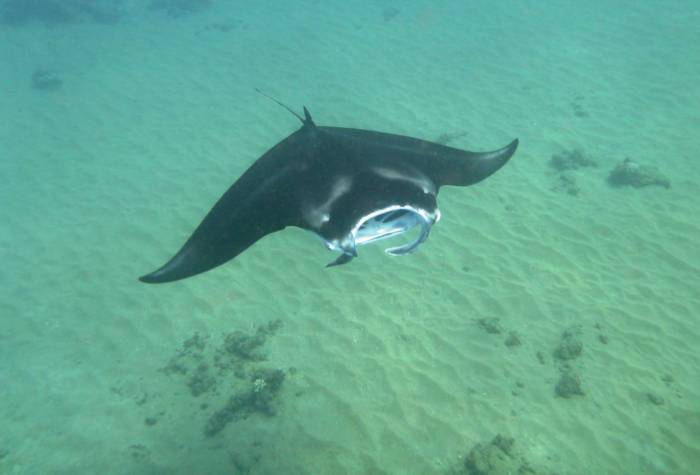 We had an amazing day on the Maui Magic this weekend.  It has been pretty windy throughout the week and then all of a sudden, Saturday was perfect.  We started the morning with the usual tour of South Maui and came across a pod of spinner dolphins in La Perouse Bay.  They were particularly active and excited to have some spectators, so they kept slapping, jumping, and playing!  Next we made our way to Molokini and dropped some fishing lines in along the way.  No luck today, however we did see some major splashing in the distance.  It looked to be some Manta Rays jumping/breaching, but not really sure…..yet.  We snorkeled in Molokini Crater for an hour and then we were off to our second destination.  As we cruised passed the place we had seen the splashing earlier, we saw a dark patch of water.  Sure enough, it was a huge Manta Ray!  It had to have been 6 ft. across and it was just feet from the boat!   The massive creature was not fazed by us in the least, and swam around for a good 5 minutes.  Once it was on it's way, we headed over to Turtle Arches were everyone got to swim with some Hawaiian Green Sea Turtles!   It was a fabulous day on the Maui Magic!
We Love To Bring Them Back! February 11th, 2011
We had an absolute glorious day out on the Maui Magic yesterday!  The weather was perfect, the water conditions at Molokini and Turtle Arches was amazing and the whale show was EPIC!  Another reason it was so fun, was that 15 out of the 43 passengers were repeat visitors!  We love it when they come back to join us!  The morning started out with us making it out the La Perouse to check out the lava flows, then off to Molokini Crater to snorkel.  On the way there we came across a competition pod of about a dozen animals battling it out!  Molokini Crater was calm and beautiful with a good 150 ft. of visibility.  Our snorkelers saw tons of fish, an eel, and a couple of octopus!  Our second destination was Turtle Arches and on our way there we came across a very excited baby Humpback.  It was so full of energy, it must have breached 10 times in a row just 100 yds. away from us!  After making it to Turtle Arches, first things first, the slide.  Nearly every passenger (of nearly every age)  took a turn, it was so much fun!  Then they jumped in the water to find the Hawaiian Green Sea Turtles!
Whales, turtles, boating, burgers, beer, being on the ocean….does it get any better?
Tsunami Warning March 16th, 2011
WE SURVIVED!  Thanks to all of our Maui Classic Charter "fans" for your emails, letters, and thoughts throughout this past weekend.  Have no fear, we made it through without too much trouble, and we were back doing our regular charters on Monday.  The first warnings came Thursday evening with about a 6-7 hour time frame to get our ducks in a row!  Our captains organized crews for both the Four Winds and Maui Magic, and hauled the boats out into safe water.  When the tsunami finally arrived in the wee hours of the morning, the water was literally sucked out of Maalaea Harbor so that you could see the very bottom.  When it filled back in, the water went up higher then the outer see wall!  In fact, all you could see was the very top of the Four Winds II dock box sign.  (This was not a personal observation, but through pictures and friends that risked staying down by the harbor!)  The boats that were not taken out of the harbor by their owners got tossed around and 2 of them ended up sinking.  At first the word was that one of the boats sank right in the Maui Magic Slip!  As it turns out, it did, and then moved further down the harbor as more swells came in!  After the authorities gave us the all clear to drive down to the harbor, we cruised down to check out the damage. All of our docks were still in good shape and the only thing missing was the Maui Magic dock box.  We eventually found it on the OTHER side of the harbor at slip #62 without a scratch on it.  In fact, the brochures were still in the holder!  How crazy is that?  The boats hung out in Maalaea Bay until the tides started to calm down.  Even hours later they were still rising and falling 4 to 5 feet in minutes!  In the end, the boats made it safe and sound and only a few repairs had to be made!  Here in Maui, we were so fortunate this time.  We can't thank you enough for your kind thoughts and comments.  Now were our sending our Aloha to Japan, as they are the one's that truly need our love!
Lots of Spinner Dolphins December 13th, 2011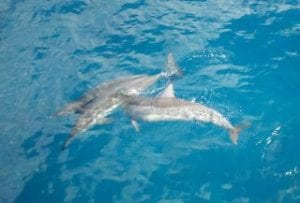 We have been seeing a lot of the Spinner Dolphins on the Maui Magic, sometime even twice in one trip!  They've been doing their usual acrobatics and playful activities all around us, giving us quite a show!  They are a very social animal, so they enjoy hanging around the boat showing off.  We are so lucky to see them on a regular basis!
A Nice Head Lunge for a Humpback January 20th, 2012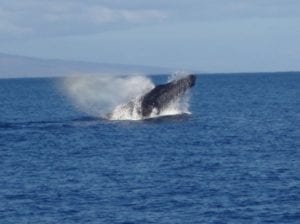 On our way to our 2nd snorkel spot on the Maui Magic, we came across a competition pod of Humpback Whales in the middle of Maalaea Bay.  I was able to snap a shot of one of the males doing a head lunge onto another male whale.  Amazing sight to see!