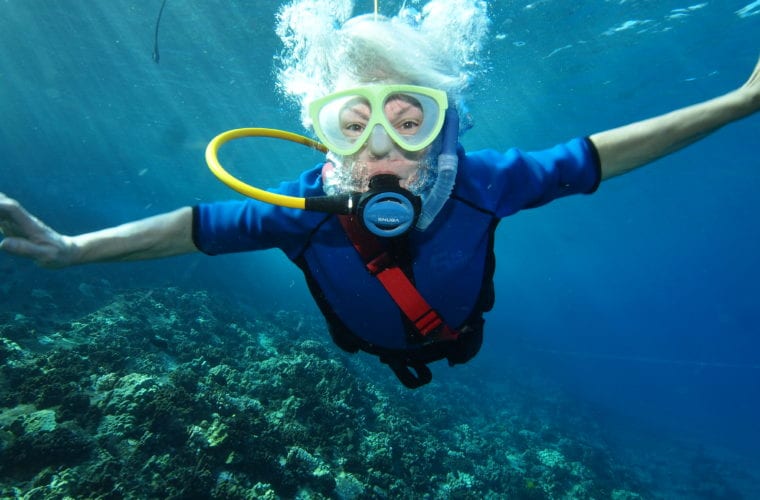 SNUBA: A Crew Member Helps a Guest Overcome Her Fear
Rachel called to book her reservation on the Four Winds and asked me about SNUBA on Maui Four Winds.  She said she was scared to death, but so badly wanted to try it.  I explained to her how the system worked and how easy it was to do!  (More information on SNUBA)  The part that made her feel better was that you only have to go down as far as you want to.  You can stay on the surface and hold on to the raft until your ready then start to descend to 20 ft. or you don't have to descend at all!
It just so happened, that she booked her families Molokini snorkel trip on the Four Winds II, the same day I was working.  I was able to give the SNUBA instructor a heads up on her apprehension so he could give her the confidence to go through with it.  I knew how badly she wanted to try, and I didn't want her to talk herself out of it! I checked on her a couple of times as they were listening to the class, and I half to admit, I thought she was not going for it.  The look on her face was complete and utter terror!  After the class I hunted her down and pulled her aside to see what she thought… to my surprise she was still in!
SNUBA Molokini Crater
I gave her a quick "ata girl" hug and was on my way to help the snorkelers get in at Molokini Crater.  The next time I saw her she was glowing!  She gave me a play by play of the dive, telling me how wonderful and patient the instructor was, and that she had the absolute time of her life!  She couldn't even believe how easy the experience was and that after the first few minutes she wasn't even thinking about how scared she had been.  She was too busy taking pictures of all the fish, urchins, eels and more.  She said they even spotted an octopus!  Seeing these people go through these transformations is an experience so satisfying and exhilarating, it makes me hope that I can do this for a very long time!