Maui Snorkeling & Other Fun Activities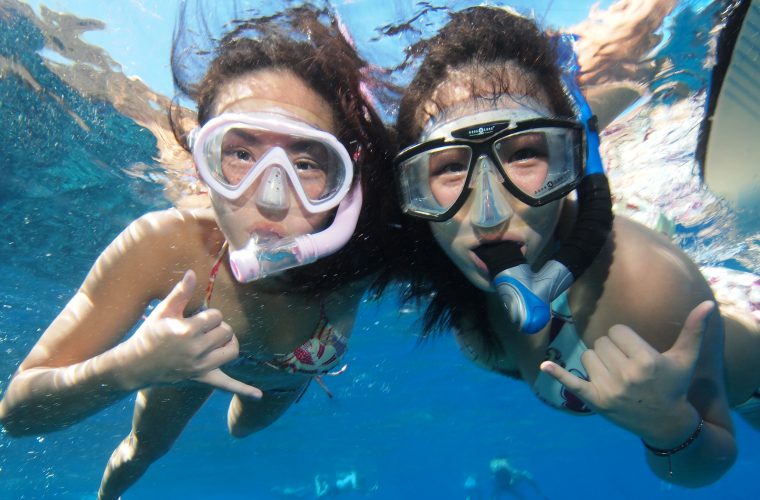 We all know that Maui is a beautiful island, but we can also agree that it is quite expensive. Unfortunately, with shipping costs and inflation, things have gotten even more expensive since COVID. Even though certain things such as hotels and restaurants are quite pricey, there still are activities you can do on Maui that won't break the bank.
1. Go on a Afternoon Snorkel & Whale Watching Tour
The Four Winds II offers daily snorkel tours out of Maalaea Harbor, Slip #80. The afternoon snorkel to Coral Gardens or Molokini (weather dependent) is a great value. Not only can you snorkel beautiful coral reefs and see tropical fish, but you also get the chance to Whale Watch (whale watching season is Dec – March). Combining a great snorkeling tour with whale watching makes this trip a great deal! The tour starts with a 1:00 pm check in, 1:30 pm departure, and returns to Maalaea harbor at 5:00 pm. The Four Winds II is great for all ages and levels of swimmers. Snorkel gear, flotation, a BBQ lunch, drinks, and alcoholic beverages are all included in the tour.
2. Eat at Maui Food Trucks 
The food truck scene on Maui has been booming! The cost of food in Maui is extremely high. Taking your family out to eat at a restaurant can be very expensive, which is why food trucks are a great alternative.
Kahului airport is right next to one of the most popular food truck stops on Maui. Located directly across from Costco, this is a perfect stop for those who just got off the plane and want some "ono" food. Some of the food trucks at this location include Like Poke?, Mo 'Ono, Thai Mee Up, Kalei's Lunch Box, and much more!
3. Shop at the Maui Swap Meet
Enjoy great bargains and shop where the locals go! The Maui Swap Meet has been loved by tourists and residents since 1981. You'll find fresh fruits and vegetables, souvenirs, t-shirts, dresses, flowers, jewelry, and delicious local food! There are approximately 200 vendors and is definitely the most cost efficient place to find great deals on the island.
The swap meet is open every Saturday from 7 am – 1 pm, at the University of Hawaii Maui College parking lot, directly across from the Maui Arts & Cultural Center.
4. Visit Maui Beaches 
Some of the best beaches in the world are located on Maui. Amazingly, Maui has over 30 miles of beaches stretched across the island. The best beaches on Maui really depend on what you have in mind. For example, Baby Beach in Lahaina is perfect for kids and has calm and shallow waters.
Looking for something more adventures? Big Beach is great for body boarding and swimming, but remember to NEVER turn your back on the ocean, as this location is known for strong currents and rogue waves (recommended for advanced swimmers only). The best part about spending time at Maui's beautiful beaches is that it's FREE (some beach parks do have a parking fee). We recommend packing a cooler and getting to the beach early and make sure to take plenty of reef-safe sunscreen.
5. Dine at the Ocean Vodka Café
Looking for lunch with a view? You'll love the Café at the Maui Ocean Vodka distillery! Relax outdoors and enjoy the spectacular view while sipping on one of their signature cocktails.
The food menu is delightful and includes fresh local ingredients and even includes fresh vegetables and herbs from Ocean Vodkas personal garden.
The café is open every day (closed Thanksgiving, Christmas Eve, and Christmas Day), from 11:30 am to 7:00 pm (last call for food and cocktails is 6:30 pm).
6. Drive the Road to Hana
Although it makes for a long day, driving the Road to Hana is completely worth it! There is nothing comparable to the views and beauty you will see while driving the Road to Hana.
We recommend doing some research before going and choosing just a few locations you would like to visit, instead of trying to cram it all in. There are so many gorgeous spots, however, it is nearly impossible to see them all. Embrace a few stops and soak up the beauty. Make sure you pack a bag and take water, snacks, hiking shoes, towel, cash, and a full tank of gas! Please remember to respect the land, culture, and locals.
7. Visit the Ali'i Kula Lavender Farm
The Ali'i Kula Lavender Farm in Maui is a beautiful place to spend the day, especially with friends and family. Explore all of the incredible uses of lavender and enjoy the locally made items in their gift shop.
The farm is open Friday, Saturday, Sunday & Monday's 10:00 am to 4:00 pm. General Admission is $3 per person, with a $1 off for Seniors, Military, and Kama'aina. If you bring non-perishables to support the Maui Food Bank (one item per person), admission is waived!
8. Go Hiking 
Hiking Maui is a great way to see the island. Maui really has some fantastic hiking trails and its a great way to spend the day on a budget. From rainforests and waterfalls to the crater at Haleakala, Maui has it all.
One of our personal favorite hiking trails in Maui is Waihee Ridge Trail. Waihee Ridge Trail is located in northwest Maui. You will LOVE adventuring up the ridge of Waihee Valley (it can be quite steep, especially in the beginning) and the amazing views of the island
9. Walk Front Street in Lahaina
Maui has a lot of great places for shopping, but we highly recommend walking Front Street at some point during your Maui vacation. There are many different types of galleries, inexpensive shops and delicious restaurants to choose from. Make sure you take a break from shopping and check out the Bayan Tree Park near the Lahaina Harbor.
10. Maui Tropical Plantation
The Maui Tropical Plantation is a beautiful spot to walk around, shop, and dine. The restaurant Cafe O'Lei at the Mill House has a beautiful view of the Maui mountains and a lovely outdoor patio.
Make sure you check out The Country Market, featuring Kumu Farms fresh fruits and vegetables and Oma Coffee Roasting Co. The Country Market is open Tuesday through Saturday, 9:00 am – 4:00 pm.