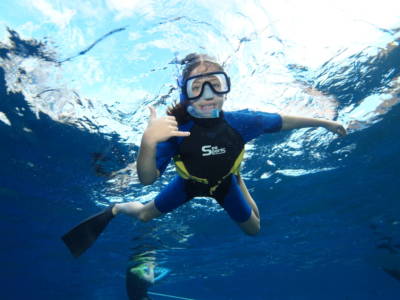 What Makes The Four Winds II A Family Fun Boat
Safety
Our crew is here to assist you and are trained for ensure your family's safety.  We have the best of the best crew on the Four Winds II.  They are CPR certified and a trained and all safety aspects of the boat.
Glass Bottomed Boat
The Four Winds is the boat has this, a glass bottomed viewing room in the port side hull of the boat.  It's always a hit with the kids. With the amazing visibility in Molokini Crater, the kids and adults alike can see all the beautiful marine life as it passes by the boat.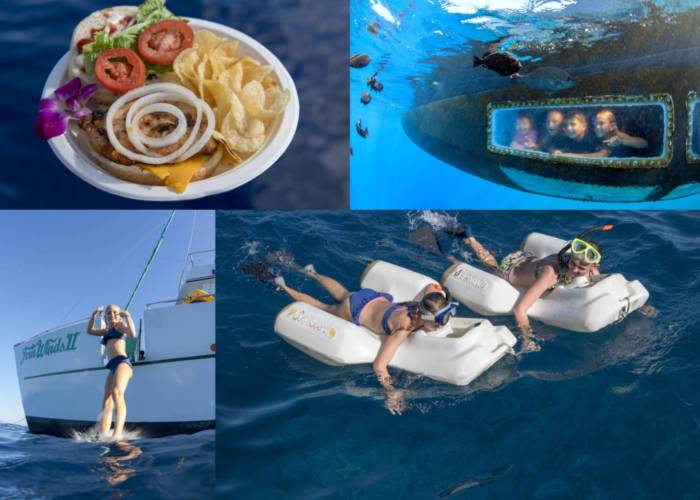 See Boards
These truly unique oversized boogie boards have a glass bottomed viewing window in them.  You can actually pull your youngster around like a wagon on the water, so they are seeing the marine life right with you as you are snorkeling!
Waterslide
Proof that all ages can still have fun, we have a super fun waterslide set up on the bow of the boat.
Delicious BBQ lunch
Family friendly food including hot dogs and chips!
Added Gear for Kids!
On the Four Winds we offer a wide variety of sizes of fins, masks and flotation.  We want to make sure your kids are as comfortable in the water as possible!  Snorkeling in Maui is supposed to be fun for everyone, we do our very best to make sure that means the kids too!
Cool kids Tattoos!
Free, fun, hypoallergenic, temporary tattoos are available for any kid (of all ages)!
SNUBA for the Whole Family!
We offer SNUBA for kids age 8+ and adults.  Fun and safe and can get the whole family doing a fun water adventure!
For many years, the Four Winds II has participated in helping to assist the Make-A-Wish Foundation in making it possible for children, with life-threatening medical conditions, to experience our trip at no cost to them. While we take an active role in caring about the environment, conservation and marine life preservation the Four Winds II cares most of all about people! That is why we continue to participate with providing fun to kids in need and donate many trips annually towards this worthy cause.