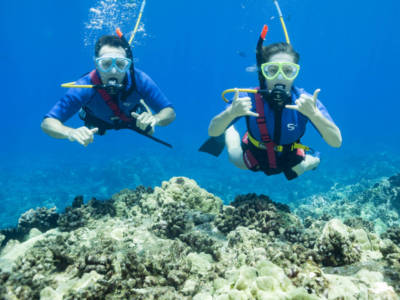 One of the questions we often get asked is, "What's the difference between SNUBA and snorkeling?" Well, there is quite a bit of difference between the two, but both are equally as fun!
SNUBA
What exactly is SNUBA? SNUBA is a cross between snorkeling and scuba diving. The great thing about SNUBA is that no certification is required. Even if you are not the greatest swimmer and have never snorkeled before, you can still try SNUBA. It is really quite easy! The breathing aparatus is a user-friendly regulator that's connected to an air supply that floats at the water's surface. SNUBA allows you to explore the ocean without having a tank attached to you. The SNUBA hoses we use on the Four Winds II and the Maui Magic are about 10 feet long, so most people go about 8-9 feet below the surface.  Worried about flying right after trying SNUBA? No problem! Unlike scuba diving, you won't have to worry about waiting 24 hours before flying.
Safety is always first! You will always be accompanied by a highly trained and certified SNUBA guide while you're exploring the underwater world. Before trying SNUBA, your instructor will give you a 15-20 min safety briefing n your way to the destination and tell you what to expect during your guided tour. Your instructor will also get you geared up for SNUBA with your fins, mask, weight belt and harness.
Snorkeling
Snorkeling
is defined as swimming underwater while using a snorkel, which is a tube that allows you the breathe while you are underwater. You will also need a diving mask and fins to be able to snorkel. Snorkeling is a fun activiy for all levels and ages. If you do not feel comfortable in the water, snorkeling is a good way to ease yourself in to trying other ocean activities. Snorkeling requires very little swimming. The great thing about snorkeling in Hawaii is that you will see beautiful coral reefs and tons of tropical fish. You may get lucky and get to witness other marine life, such as: Hawaiian sea turtles, manta rays, octopuses, eels, etc. No certification is required to snorkel. If you are wanting to snorkel
Molokini
, try going out with the
Four Winds II
on a morning trip! Not an early riser? Try our afternoon trip and snorkel beautiful
Coral Gardens
.
Snorkeling Tip: Make sure to use some of our anti-fog solution in your mask before getting into the water. Your snorkeling experience will be much more enjoyable!