West Maui Best Luaus in Review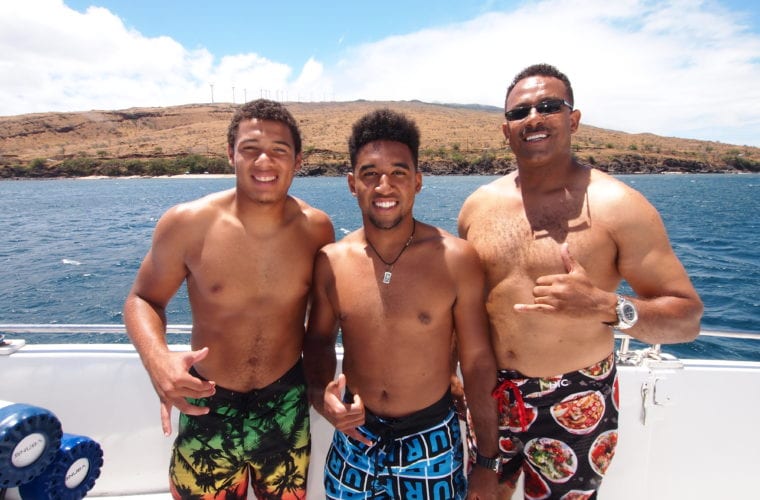 If you visit Hawaii and don't attend a Hawaiian or Polynesian Style Luau, you are definitely missing out! You can find something for just about every budget, family friendly and couples oriented and they do tend to differ from one to the next. These dinner and show combos are always a delight and a great way to connect with the Hawaiian Culture.
Some of these do sell out well in advance, so reservations are necessary and you just can't book too far in advance. Both the Old Lahaina Luau and the Feast at Lele should be booked at least a month in advance (minimum).
1. Feast at Lele: This is, hands down, my absolute favorite luau on Maui for many reasons. While it does cost a bit more than others, it is absolutely worth every penny for those who want a First Class experience and a feeling of cultural immersion.
This is the only Maui luau that offers full table service and skips the buffet. Located ocean front in Lahaina, you couldn't ask for a better seat for spectacular sunsets!
People migrated to the islands that have come to be called Hawaii from many areas of Polynesia and this venue does an excellent job of matching cultural aspects from each region with dinner fare … in fact, meals are served from the area being represented on stage, in courses (Tahiti, Fiji, Samoa, New Zealand and, of course, Hawaii).
NOTE: Looking for a night out without the kids? This luau does tend to cater to adults and is especially romantic for honeymooners (even if it's your 20th honeymoon!)
2. The Old Lahaina Luau: This is actually the sister luau to the Feast at Lele and was in full swing for many years before the newer opened. They are located at the opposite end of Front Street in Lahaina and is still an ocean front setting.
Here, you will find a very authentic Hawaiian luau (if you want to go completely  traditional, there is seating on the ground, on hala mats with low tables … pictured below). Not to worry … there is also  banquet style seating at tables with chairs!
This is my second pick for the entire island and is always great fun! A bit more budget friendly and much more fun for younger members of the family, the show is captivating, the drinks are free and the food is served buffet style.
NOTE: This is one of the most popular luaus on the island. Make reservations early!
3. Drums of the Pacific: For those staying in the Ka'anapali, this is a really fun option. Located on the grounds of the Grand Hyatt, it is walking distance from the hotels on the "beach walk" and offers more budget friendly standard seating as well as a VIP option.
As with most Maui luaus, food is served buffet-style and the bar is open. Table service is limited to clearing of plates and bringing fresh cocktails (until the show starts) but you will certainly be well taken care of!
The grounds are located parallel to Ka'anapali Beach and you can still see the sunset; however, there is a nice "privacy barrier" created with a lava rock wall and flora to provide a feeling of privacy for those in attendance.
The performers are fabulous and the show's M.C. is always entertaining (there is even a break in the show that allows guests to hop up on stage and learn a dance … you have to try this out … it's unforgettable fun!)
4. The Westin Wailele Polynesian Luau:  The newly designed grounds of the Wailele Polynesian Luau is held outdoors at The Westin Maui Resort & Spa, also on Ka'anapali Beach and touts "Maui's most extreme troupe of fire-knife dancers!"
The resort's newly revitalized "Aloha Pavilion", complete with cascading waterfalls, tropical gardens and tiki torches presents the perfect setting for guests to embark on an exciting journey to the Polynesian Islands where dance was considered not just as a form of entertainment, but as means of telling stories.
Allow yourself to be transported as the show features dances from Hawaii, Fiji, Tahiti, New Zealand and Samoa. The breathtaking finale is an "extreme fire-knife dance performance".
Enjoy a superb buffet style Hawaiian meal of traditional selections for an authentic experience. The three hour experience includes free flowing drinks all evening with Mai Tais, signature cocktails, local beers, sodas and fruit juices.
5. Maui Nui Luau at Black Rock: Also positioned ocean front on the award-winning Kaanapali Beach, at the very far end, the Maui Nui Luau shares the music, dance and history of the islands right here at the foot of the famous cliff diving point, Black Rock.
World renowned Polynesian entertainment producer Tihati Productions presents the best in Hawaiian and Polynesian song and dance, including the spectacular fire knife dance. Enjoy Hawaiian arts and crafts and experience an authentic Hawaiian Imu Ceremony.
Discover the remarkable stories, history, and culture of the Valley Isle and Kaanapali through the songs and dances of Maui and the Pacific ….. "Discover Maui Nui Luau".
NOTE: If you aren't interested in the meal or are on a budget, this is one of the very few luaus to offer a special Cocktail and Show Only Package that can save you quite a bit.
10. The Myths of Maui Luau: Not to be mistaken with the OLD Lahaina Luau, this is probably the most budget friendly luau on the island. Located on the grounds of the Royal Lahaina Resort, it is often simply called the Royal Lahaina Luau.
The last rays of a spectacular sunset, beating drums and the call of the conch shell signal the start of Maui's most exciting and longest running Polynesian luau.
You will find yourself swept away by the breathtaking celebration of traditional Hawaiian, Tahitian, Samoan and even Maori dance and music as performers "weave the legends of the South Pacific into a spellbinding performance you are sure to treasure for years to come".
As with most of these listings, this Maui oceanfront luau features an all-you-can-to-eat buffet, complimentary cocktails and a beautiful celebration of music, drums and dance that culminates with an amazing Samoan fire knife finale that will dazzle your entire family.
VERY family friendly, this full Polynesian review even features a children's buffet full of kid-friendly selections for those more finicky eaters.
A couple of things to keep in mind when attending your Maui luau; dress can be casual or not but a light wrap or jacket is a good idea. You may also wish to have a little cash to leave a gratuity for your servers. Whether buffet or table service, it is never expected but always appreciated.
Join in the fun, allow yourself to become enchanted and immersed in another culture and enjoy dinner and a spectacular show under the stars … the questions should not be "do we or do we not" go to a Maui luau, but which one should we attend! As you will often hear at the beginning of every show … ALOOOOOHA!!!!