Rainy Day Activities on Maui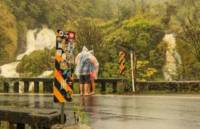 Even in paradise, there are occasionally rainy days. Most of the time, simply driving to another part of the island will find you a warm, dry place; however, for those rare days when this is not an option, here are a few suggestions!
1 – Maui Ocean Center:  Having visited some amazing aquariums throughout the country, I am thrilled to have this gem on the island! Multiple viewing tanks, inter-active touch pools and more! While some of the exhibits are located outside, they are all under some sort of cover!
2 – Glow Putt: Located in Lahaina, Glow in the Dark Miniature Golf has been a staple in indoor Hawaiian entertainment for more than 10 years and is a great way to enjoy some family fun on the west side of Maui.
3 – Check out Resort Amenities: From spa treatments to poolside cabana massages, you're sure to find many ways to pamper yourself! Treat yourself to a little luxury!
4 – Maui Theatre: Check out the productions at this historic theatre in Wailuku. The Iao Theatre is something you can definitely get into on a rainy night on Maui.
5 – Shopping: For a small island in the middle of the Pacific, Maui offers surprising options for shopping, from the posh Shops at Wailea, boutiques in Makawao and Paia and gift shops in Lahaina. Check out local arts and pick up souvenirs!
We have a saying in Hawaii … "No Rain, No Rainbows!". Never let a little rain ruin your time in paradise!