Maui's Best Attractions on a Budget … Wailuku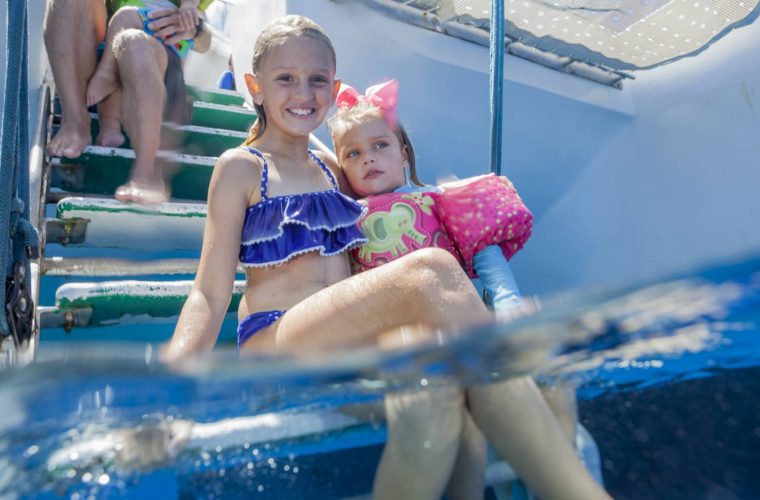 Everyone involved seems very excited about the last blog sharing some of Maui's Best Attractions on a Budget by area, we'll keep going. Let's spend a day in and around Wailuku! The drive is beautiful and it's good, as with most everything here, for you to get an early start.
Many visitors miss this part of the island as it is not really close to resorts (one harbor for cruise ships is located in Kahului) and parts of Central Maui are primarily industrial and shopping for day to day items.
1 – I'ao (pronounced eee-owww) Needle and Park: This breath-taking park offers a paved pedestrian path leading through the valley and up to the views offered at the I'ao Needle and the ridge-top lookout provides incredible views of the valley. As with most things on Maui, an early start ensures the best views. I'ao Valley is also historically quite significant in the history of the Hawaii Islands and changed Hawaii history forever. On this site, In 1790, King Kamehameha I overtook the Maui army in his effort to unite the Hawaiian Islands.
2 – Kepaniwai Heritage Gardens: This tranquil spot is located in the lush Iao Valley, not far from the Iao Needle. In addition to lovely architectural displays from eight cultures, you will enjoy walking through the memorial Gardens from the various cultures represented, including Memorial Gardens, Ethnic Displays and even structures representative of homes from each culture.
3 – The Bailey House Museum is run by the Maui Historical Society and is open to the public six days a week. Among exhibits, you will find yourself escorted back in time via the largest collection of Hawaiian Artifacts on exhibit in Maui County, early 19th century missionary artifacts, Koa wood furniture and the paintings of Hawaii by Edward Bailey along with Archeological and Natural History Materials that include (but are far from limited to the 100 year-old canoe Honaunau and a surfboard that belonged to Duke Kahanamoku, long considered Hawaii's Ambassador to the World.
4 – Historic Wailuku Town:  While the bustle of earlier days is gone, the streets streets of Wailuku still hold many rewards for those who seek them out! Buildings along Market, Main and Vineyard Streets display the architecture of Wailuku's heritage and are almost like stepping back in time. Presided over by the historic Iao Theatre, these plantation style and Art Deco structures now house many unique shops featuring goods from Maui, other Hawaiian islands and around the globe. You will find these architectural gems mixed in with newer structures yet it all seems to just meld together.
A visit to Market Street offers curios, collectibles, objects large and small, local memorabilia and antiques from around the globe. Basically, the adventurous shopper will find an array of treasures among the shops and galleries tempt you with contemporary merchandise as well: jewelry, music, books, art, crafts, and gift items, plus T-shirts, silk kimonos, aloha shirts … even fresh caught fish! Browsers and shoppers are warmly welcomed by local merchants with helpful information and advice. You will
find the aloha spirit very much alive in old Wailuku!
Ready for a cool drink, a hot espresso, or freshly made sandwich, salad or snack? Comfortable and delicious options abound from small bakeries and delis to local faves, ethnic cuisine (Tseng Thai is always amazing!).
Unlike much of Maui, parking is easy and free along Market Street or in a large municipal lot off Vineyard Street. For parking longer than two hours, make sure to select a 12-hour stall in the center of the lot.
If you happen to be here and enjoy street festivals, the first Friday of each month is a big deal. Actually called "First Friday", it's definitely worth the trip!
5 – Maui Tropical Plantation: The Maui Tropical Plantation is one of Maui's has long been a wonderful way to spend a few hours, check out the HUGE variety and has just recently begun to gain the recognition they deserve. Situated only about 10 minutes away from Kahului Airport and about 30 minutes from Ka'anapali or Wailea, this is a definite MUST stop on your way back from Wailuku!
This is no ordinary garden, but is an actual working 60 acre plantation.  The narrated tram tour offers a unique way to "step back in time" so to speak. Sit back on the tram, enjoy the scenery and listen to the narration … keep your eyes open; you may just catch a beautiful wedding in the Gazebo or pond side.
As part of your tour, a driver will show you the traditional method of "husking" (cleaning) a coconut, and will teach you facts about sugar cane, star fruit, bananas, coffee, macadamia nuts, papaya and more.
The Plantation gift store is a great place to find souvenirs, items made on Maui as well as fresh fruit grown on site. There's even a restaurant with a lovely view of the West Maui Mountains and a new zip line!
6 – Maui Ocean Center – The Hawaii Aquarium: In 1998, Coral World International opened Maui Ocean Center, the largest tropical aquarium in the western hemisphere. Since that time, thousands of visitors of all ages from around the globe, locals and visitors alike, have visited to discover Hawaii's undersea world in a captivating and educational setting.
This 3-acre marine park faithfully replicates the natural Hawaiian ocean ecosystem,where visitors encounter many forms of life that exist only in the waters of Hawaii (many of these are not found anywhere else in the world!) Featuring the largest collection of live corals in the nation, and over 60 exhibits, including interpretive displays, outdoor touch pools and a 750,000-gallon Open Ocean exhibit with 240-degree view acrylic tunnel, the marine park is not only an amazing educational experience, but a magical way to spend some time!
7 – Maui Golf & Sports Park: While playing Putt-Putt golf may not have been in your plans for your trip to Maui, the Maui Golf & Sports Park actually offers a different kind of family fun (Island Style, of course!) with two 18 hole miniature golf courses, bumper boats, the Xtreme trampoline and even a kid-friendly rock climbing wall. The Maui Golf & Sports Park is located at Ma'alaea Village, near the Maui Ocean Center Aquarium. The staff goes out of their way to ensue every member of the family and kids of ALL ages have a blast and are always watching out for you. There are picnic areas and refreshments for sale, so slather on the sunscreen and come on out!
8 – Four Winds II PM Snorkel:  With so many different snorkels available from Maui, it's nice to have a very budget friendly option and one that allows you to sleep in (or do some other things) in the morning.
Just past the Maui Ocean Center Aquarium, you will find Maalaea Harbor, home to the Four Winds II. While the boat does do a regular half day excursion daily every morning, there is a shorter afternoon version that fits almost any budget!
Checking in daily at 1:00pm, this boat and the crew is especially known as the "Family Fun Boat" and takes visitors (new and repeat) on snorkel tours to destinations such as Molokini Crater and Coral Gardens (*** Molokini is always weather permitting). Tickets start at $29 for children and $39 for adults with optional B-B-Q lunch grilled and served on board, making for a leisurely picnic on the water.
There's something for everyone, including a glass bottom viewing room (think human sized aquarium that's dry inside), water slide that splashes you right into the ocean, temporary tattoos and fun, fun, fun!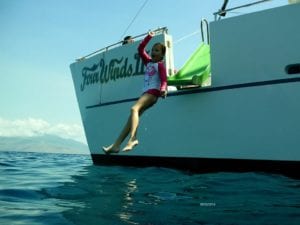 Now you're probably ready to catch a sunset and a bit of rest. Hope you enjoy some memorable experiences while on Maui and that you find some inspiration here!