Maui's Best Activities for Couples
Maui truly offers a little something for everyone. As a popular Destination Wedding and Honeymoon locale, a few ideas for couples seemed like a nice thing to have on hand. After living here for over sixteen years, here are just a few of my top picks. I could go on and on but it would take us months to cover that much ground! I promise to keep the ideas coming if you promise to have a wonderful time when visiting our island. I came on vacation and never went home; perhaps you will find the same charm as I and find a home away from home!
1 – Arrange an Airport Lei Greeting: What better way to begin your island get-away, whether a honeymoon or simply a vacation than being greeted with fragrant fresh flowers in the traditional Hawaiian fashion! This practice was actually started long ago when the only way to the Hawaiian Islands was by boat. Not the luxury, floating hotels we see today, passengers would reach their port of call and dis-embark looking for accommodations on land. Locals would meet them at the harbors with these hand-made "necklaces" of lovely fresh flowers and a kiss on each cheek in greeting. This practice continues on today and makes a lovely way to get you into the "Aloha Spirit"!
2 – Drive the Road to Hana: There's just so much to do on Maui, it's difficult to pack it all into one trip unless you have several weeks (or longer)! One of the things no visit to Maui is complete without is the famed Road to Hana. Back in the day, so to speak, it was much more of an adventure as it was mostly unpaved … I actually have friends who have lived here since the 60's and 70's who can recall having to stop where they were and wait out the rain due to mudslides. SCARY to say the very least! These days, it is mostly paved but with about 42 miles that include some 54 one-lane bridges and 600 (yes, you are reading it correctly) hairpin turns (think of the shape of a paper clip and you'll get the gist), you could still proudly don the "I Survived the Road to Hana" t-shirt after this drive.
To make the most of this trip, leave your hotel early (better yet, try to spend a night or two), pack a lunch and take your time. The journey is really the point. A CD guide is always helpful as they give you landmarks and places to stop that you might not otherwise find. Be sure to wear comfortable clothes and walking shoes but bring swim wear, towels and flip flops for swimming in the waterfall pools and even at the black sand beaches. A convertible is a great vehicle to have for this drive. If you have a Jeep and it rains, putting the top on is not an easy task. With a convertible, pull over, push a button and you're on your way!
3 – Haleakala Crater: Sunrise, Sunset or Star-Gazing: At this altitude views of Maui are incredible. When the skies are clear you can see three other Hawaiian islands from Haleakala's lookouts: Molokai, Lanai and Hawaii's Big Island. Sunrises are unforgettable but sunsets can be equally as amazing and often can be less crowded. Stargazing is spectacular and the park — which is open 24 hours a day — offers stargazing programs in the summer.This rare and sacred landscape is quite a special place that practically vibrates with stories of ancient and modern Hawaiian culture and protects the bond between the land and its people. The park also cares for endangered species, some of which exist nowhere else. Come visit this special place – renew your spirit amid stark volcanic landscapes and sub-tropical rain forest with an unforgettable hike through the back country.
At this altitude views of Maui are nothing short of incredible. When the skies are clear you can see three other Hawaiian islands from various points, including Molokai, Lanai and the Big Island of Hawaii's. Sunrises are unforgettable but this is a very well known fact and a popular attraction. It is lesser known that sunsets can be equally as amazing and often times can be less crowded. Stargazing is spectacular and the park and has become a recent attraction with both guided tours and park led evenings. The park is open 24 hours a day, making any time possible.
Whenever you choose to go, it is best to dress in layers and make sure you have warm clothing and closed toe shoes (I usually wear two pairs of socks and hiking boots). Take plenty of drinking water and snacks. Depending on the time, there are places just outside the park entrance for breakfast or dinner.
4 – Have a Couples Spa Treatment: While there are a number of places to enjoy a couples "spa day" or even just have a massage for two on the beach, the Spa Grande is one of my personal faves! Voted among the "Top 10 Spas in the United States" by Condé Nast Traveler and Travel & Leisure magazines, Spa Grande at the Grand Wailea is arguably the best spa on Maui and one of the most luxurious resort spas in Hawaii. Offering a wide array of treatments that reflect a balance between the traditions of the east, west and ancient Hawaii. In the words of the Grand Wailea, "Experience a harmonious infusion with one common goal – to unite one's inner wellness and outer beauty. There is no Maui resort spa like it."
5 – Visit Unique Towns: Welcome to Maui, commonly known as "The Valley Isle" and more recently, "The Magic Isle" where the unofficial motto of locals is "Maui no ka oi" or "Maui is the best." Whether you're seeking stunning scenery, sleepy towns or upscale resorts, you'll find that they all pleasantly coexist here, providing something for everyone.
Whether you're looking for "buzzing action", funky art galleries, exotic restaurants, pubs and unique shops or you want a secluded, next-to-nature experience or (or even something entirely different), Maui is sure to offer something to appeal to all tastes. An astounding variety of activities offer both the best of everything to ocean and land lovers alike with long stretches of beach, hiking trails ranging from beginner to advanced, sight-seeing (by air and by land) and water sport options. There are both guided and unguided options available for almost anything your heart desires!
6 – Dine at Mama's Fish House: Nestled in a beautiful coconut grove, just steps from the secluded white sand beach of Kuau Cove, this converted beach house restaurant is a memory of old Polynesia on Maui's North Shore. An award-winning menu teamed with unpretentious service and aloha spirit make Mama's Fish House an unforgettable restaurant experience in Hawaii. Voted Maui's Most Romantic Restaurant year after year and among the top five in the WORLD by many of the top publications, come see what all the buzz is about. Regardless of budget, no trip to Maui is complete without a visit to Mama's. If you only splurge on one five star meal, this is hands-down the place to do it! Reservations are required for dinner and often for lunch, so plan in advance.
7 – Snorkeling and Humpback Whale Watching: If you're looking for a solid snorkeling experience that includes two spots, including Molokini Crater, this is definitely the tour for you!  In addition to great snorkeling, there's the bonus of dolphin watching (about a 60% success rate of finding them) and, in season, Humpback whale watching!  The staff has extensive diving and scuba experience and does a stellar job interacting with passengers to provide guidance to the novice and allowing the more experienced folks to explore without inhibition.  This is an adventure trip and tend s to be more adult friendly, with the youngest children allowed being five years. The snorkeling sites offer an array of colorful fish and and other marine life, including sea turtles! Two meals are provided; continental breakfast, hot B-B-Q lunch the Maui Wowee burger is a MUST) and open bar of beer, wine and non-alcoholic beverages.
Daily excursions depart from Maalaea Harbor, checking in at 7:00am and returning at about 12:30pm. There's even a budget friendly afternoon private charter option from about 1:30-4:30pm if you wish to avoid a group.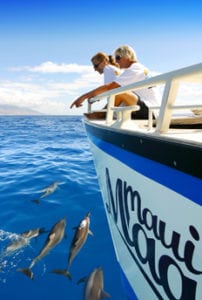 8 – Visit MANY Beaches: Crystal clear, sparkling cerulean blue waters, tropical trade-winds, and azure skies that go on forever are what most of us picture when we think of Maui beaches. While most beaches are white or olden sand, you can find both black and even red sand (the Big Island even has a green sand beach).
In Hawaii, there is no such thing as a "private beach". Even those multi-million dollar, ocean front estates must leave a pathway to the beach for public use. On Maui alone, that translates to over 30 miles of beaches. Locales include secluded beaches, areas where the reef has created small pools, often referred to as "Baby Beaches", beach parks with lifeguards, picnic facilities and restrooms and more. Each has a legitimate chance to be your own personal Best of Maui Beaches.
Several of Maui's beaches, primarily Ho'okipa,  are known worldwide as venues for international surfing and windsurfing competitions. Others are perfect for the beginning snorkeler, beachcombers, families and children. Do always remember to respect the ocean. Never turn your back on the water. If you are not an experienced beach-goer, stick to areas with life guards and always heed warning signs and you'll have great fun in the sun.
9 – Surrender to the Serenity of a Lavender Farm: In the uplands of Maui, nestled on the slopes of Haleakala are the beautiful gardens of the Ali`i Kula Lavender. Spend a day or even a few hours and "relax, rejuvenate, renew!" It is amazing how little things can change our attitude. Let your self become immersed in the sights, smells and sounds (or lack of) and find yourself immersed in utter serenity! Whether you would like to join a tour, walk the grounds alone or even plan a special event (what a lovely place for a Maui wedding!), this is a definite must for any couple looking for something "off the beaten path"
10 – Visit a Local Winery:  It's a different world up here, a place steeped in history and cherished by Maui's families and visitors for decades. The grounds alone offer an escape from the hustle and bustle, a chance to slow down, soak up the scenery, breathe the air, taste the wine, even pick up a one-of-a-kind gift for loved ones back home. You may even wish to grab lunch at the Ulupalakua Ranch Store across the street and bring it back for a romantic picnic.
The atmosphere is inviting, and the attitude always unmistakably peaceful. Tedeshci Vineyards daily from 10:00 – 5:30.