Marine Life Encounters: Whale Shark and Whales!
Whale Shark: The Largest Fish in the Sea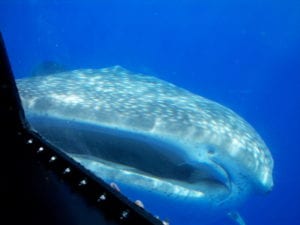 The afternoon snorkel trip got one heck of a show the other day, when a Whale Shark came right up to the boat to investigate!  The whale shark is a slow moving, filter feeding shark which actually makes it more of whale than a shark.  It is the largest living fish species and can grow up to 40 ft. in length and weigh up to 15 tons!  This creature is distinctively-marked with white spots and is the only member of it's family.   The species is believed to have originated about 60 million years ago and is thought to live for about 70 years.  Despite its enormous size, the whale shark does not pose any significant danger to humans. It is a frequently cited example when educating the public about the popular misconceptions of all sharks as "man-eaters". They are actually quite gentle and can be playful with divers.  This is not to say you shouldn't use caution if you end up snorkeling around one!  This particular animal was extremely curious  about our glass bottom, and in fact, swam right up to it and looked in to check us out!  It was like a reverse aquarium!  All the passengers got a great look and the videographer got some fantastic shots!
Discover Maui – A Review From One of Our Guests
We had a truly magnificent day on the Maui Magic today, with all kinds of wildlife throughout the morning.  Right outside of the harbor we came across a female humpback whale just logging on the surface, perfect way to start the day.  We continued down our usual coarse toward Makena, and came upon a baby humpback whale breaching over and over, he gave us quite a show!  Next was a typical stop down in La Perouse Bay to check out some of the last lava flows on Maui.  That is where we discovered the spinner dolphins frolicking around.  All this before we even put anyone in the water…..amazing!  We made it to Molokini for our first snorkel spot.  It was perfectly calm and insanely clear so it doesn't get much better then the crater for snorkeling.  From there we headed to the coast line for our 2nd snorkel, and on our way came across some bottlenose dolphins.  They swam around us a bit and gave us a short hello, then they were on their way…and so were we.  Off to Turtle Arches we go!  The visibility was very good, and everyone that went in the water had a chance to swim with a turtle.  Even the people that elected to hang out with us on the boat witnessed a turtle surface and go right underneath the vessel, too much!  In all, a tremendous day for the passengers and crew on the Maui Magic!