TOP 5 THINGS TO DO ON MAUI FOR CHRISTMAS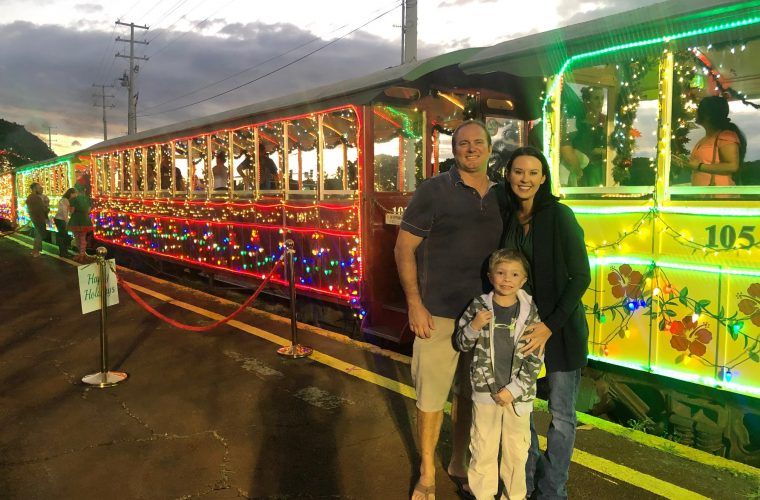 ---
Although Maui doesn't usually get to experience a "White Christmas" (unless it maybe snows on Haleakala), there are still activities and celebrations that can make it seem 'christmassy' on an island with perfect 80-degree weather year-round. 
Whether you reside on Maui or are here just visiting, you should definitely check out these special holiday events and activities!
#1: 2nd Annual Holiday Express: Lahaina Sugar Cane Train
From now until Christmas day, you can enjoy the Holiday Express sugar cane ride. Rides are offered twice nightly at 6:30 pm and 8:00 pm out of the Puʻukoliʻi Station. Experience the magic of Christmas with a four-mile train ride including: Christmas lights, caroling, visits from Santa, milk and COOKIES! 
Another great thing Lahaina has to offer is the annual Lighting of the Banyan Tree. During the day, festivities for the children will take place at Campbell Park from 1:00 pm – 4:00 pm. The tree lighting ceremony will begin at 6:30 pm at Banyan Tree Park. Front Street will also be decorated with Christmas wreaths. The lighting of the banyan tree kicks off the holiday season for Maui residents and visitors!
A little history: The banyan tree is the national tree of India and was brought over overseas to Maui and was planted back in 1873. The banyan is also called Indian or Bengal fig. In India, the banyan tree is considered to be sacred and is often seen next to a temple or religious location. The Banyan Tree is one of Lahaina's most famous landmarks.
***Make sure you check in 45 minutes prior to your trip and remember, parking at the station is limited. Details are from December 2019.
#2: Christmas Shopping on Maui

 
Christmas time is a special time of the year everywhere, but Maui sure knows how to celebrate! The island is filled with talented artists. Consider how great it is to buy locally made crafts and artwork as holiday gifts. Some of the best places to shop during the holidays on Maui are: The Shops at Wailea, Whalers Village, Paia town, and the Hui No'eau Visual Arts Center in Makawao. 
If you are looking for some free and fun entertainment while you shop, check out The Shops at Wailea on December 16th and 23rd (5:00 – 6:30 pm) and watch The Festival of the Harps. On Sunday, December 17th (5:00 – 6:30 pm) Bonnie Newman Joyful Hearts will be performing at the shops as well. 
If you have any young ones with you (or adults who are young at heart), The Shops at Wailea are hosting photos with Santa Monday-Saturday 10:00 am to 8:00 pm. On Sundays and Christmas Eve, you can visit Santa between 11:00 am and 6:00 pm. 
#3: Go on a Whale Watch and Snorkeling Excursion on the Four Winds II
Locals on Maui not only get excited for the holiday season for obvious reasons, but they also get to experience whales! Typically, whale season is from December-March (although they can show up as early as November). Experiencing these magnificent creatures in their natural environment is out of this world! The exact number of whales that visit the Hawaii region every year is unknown, but it is speculated that 1/3 of the Humpback whale population travels to Hawaii each year. Luckily, the population of the Humpback whales has been increasing over the past 50 years, which means we get to see even MORE of these gentle giants.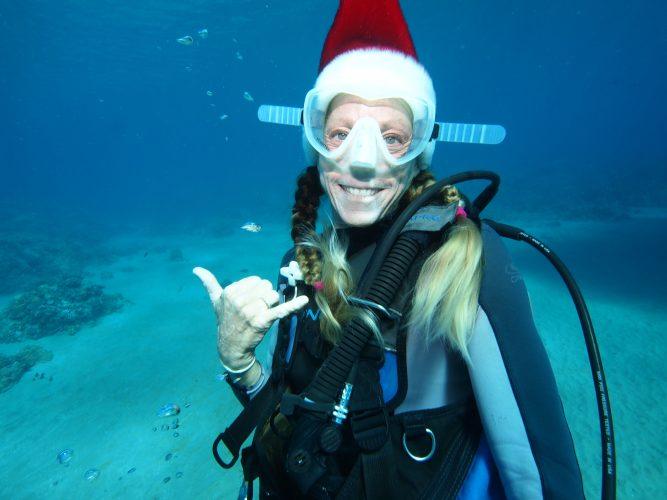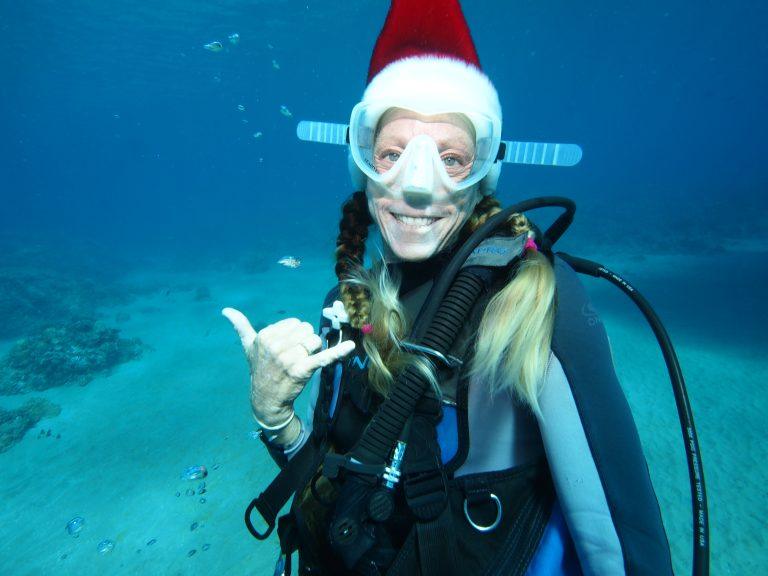 The Four Winds II is a 55-foot glass bottom boat out of Maalaea harbor that takes guests out to snorkel Molokini crater. Not only do you get to snorkel Molokini, but during whale season you get a whale watch included in your trip! If you book a morning tour on the Four Winds II, you get a tropical breakfast, hot BBQ lunch, snorkel gear, floatation, beer and wine included in your trip.  If you book directly online with  Promo Code SAVENOW, you can save $10 per person on a morning snorkel tour to Molokini Crater!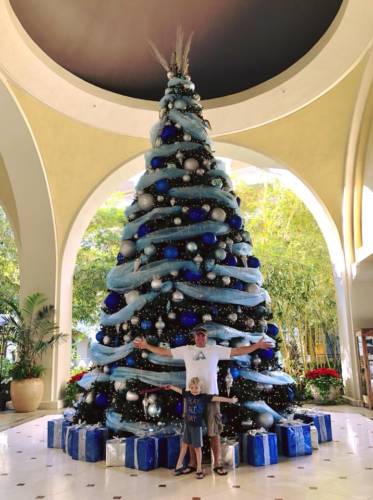 #4: Check Out The Grand Wailea and the Kea Lani
If anyone can make it look like Christmas on Maui, it's The Grand Wailea and the Fairmont Kea Lani. Right as you pull up to both of these resorts, you already feel the Christmas vibe. Beautifully strung together lights, Christmas tree's decorated everywhere throughout the lobby, and the Christmas cheer of the front desk staff and lobby concierge makes you want to never leave!
Don't forget to check out the gingerbread village located right in front of the lobby concierge desk at The Grand Wailea. It will definitely leave you craving something sweet!
On December 23rd, check out the Hawaiian Christmas Concert put on by Pūnana Leo Preschool's keiki (ages 2-5), Maui's only Hawaiian speaking school. The performance starts at 6:00 pm and goes till about 6:45 pm.
#5: Visit Santa Claus While He's on Maui!
Visit Santa before he has to head back to the North Pole and prepare for Christmas Eve night! Santa will be hosting a quick meet and greet around 9 am on Christmas Eve by the outrigger canoe at Wailea Beach (fronting The Grand Wailea) and will also be making an appearance the same day at noon on Polo Beach (fronting the Kea Lani). Don't forget to take a photo with Santa and show your friends and family that he likes to visit Maui as well!
We hope everyone has a very Merry Christmas and a fantastic New Year!