5 Reasons You Should Bring Your Kids to Maui and Snorkel on the Four Winds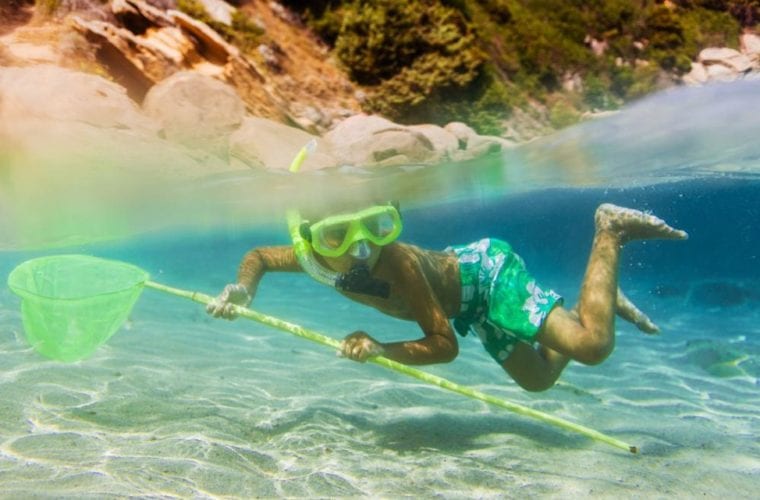 We get it – going on vacation with your kids in tow can be a hassle. But think about all the times you have spent out as a family together. Those memories are a permanent part of your relationship with your kids and will always remain so.
Now imagine the kind of wonderful, blue-tinted adventures you could have together in the blue waters of the Pacific Ocean. Tempted yet? Let's explore some of the reasons you must take your kids snorkeling to the Hawaiian Island of Maui.
1. Easy to Teach
Snorkeling is incredibly easy skill to teach. In fact, if your kids are as young as five or six years old, are familiar with water, and have had exposure to swimming pools in the past, teaching them will not be a problem at all.
If they are younger, you can begin teaching them gradually over a few weeks by letting them familiarize themselves with the snorkeling equipment in their bathtub first.
After a few weeks, move them to the swimming pool. Once they have learnt to operate gear without your interference, they can traverse the deep waters of Honolua Bay, Kapalua Bay, or Molokini alongside you, and enjoy the beauty of nature in all its glory.
You can also take a snorkel trip to give your children kid-friendly snorkeling lessons when you get to Maui. Crew members are experts and well-versed in the art of teaching others to snorkel and can turn out to be a useful resource in your child's first blue sea adventure.
2. A Source of Education
Taking your kids snorkeling can be a great opportunity for education, as well a source of it. Your kids would be on a fun water adventure while also gaining first-hand information about oceans, reefs, and the marine landscapes as well as the geology and geomorphology of Earth. That is not all: the amount of diverse marine creatures that your kids will come in contact with is matchless!
In the Central Pacific ocean you can find the humpback whale, the spinner dolphins, the Hawaiian day octopus, the monk seal, and the green sea turtle amongst bigger animals. There are numerous smaller species that can range from shoals of raccoon butterfly fish and parrotfish to manta rays and eels.
Plus, there are several marine plants that your children can get to know about. Some marine animals of the Pacific Ocean are known to be dangerous as well, so watch out for the sharks.
Snorkeling in Maui can also become a chance to answer your children's curious questions about what these animals eat and how they live. You should read up on how marine ecology works, about the diversity of life on the planet, and even go as far as evolution as you like. Your kids will enjoy learning all this immensely.
3. A Sense of Adventure
Snorkeling in Maui can prove to be an adventure of a lifetime for you and your kids. Trust us; seeing the underwater world or experiencing SNUBA is just as spectacular as it looks like in the movies.
You can have a blast exploring the wonderful world in the oceans, and your children can learn important life skills with the help of this thrilling water sport.
While other vacation activities can provide entertainment and leisure, deep sea snorkeling inculcates a deep love for nature and lifelong curiosity for knowledge.
4. Bonding as a Family
If you decide to take your kids snorkeling in Maui, you will also be making memories that you will look back on fondly for the rest of your lives. Our snorkeling tours offer to take high quality pictures of your family underwater. You can display these shots on the mantelpiece or send them out as postcards. They can serve as social media content for ages!
The time with your family you spend here will be unforgettable in your collective memories, bringing you all closer together and, later in life, serving as a reminder of your joyful companionship.
5. So Much Fun!
To be fair, you should take your family on a snorkeling trip for no other reason except that it is bound to be an immensely fun vacation! You get stunning views of Maui's coastline while treating yourself to delicious Hawaiian barbecue onboard. Not to mention the varied interaction with marine life such as going turtle watching, and if you are lucky enough, it may even be whale watching season.
If you are convinced that snorkeling could be your next vacation highlight, Maui Island is your best bet with its 120 miles of coastline and over 30 miles of beaches. We hope you are already packing your bags!