Maui Whale Watching Tours: Whale Watching Maui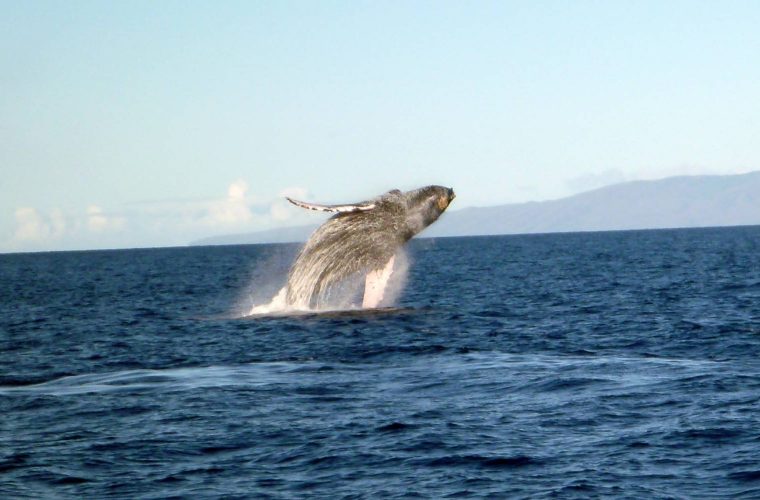 Traveling to Maui is a bucket list item for people all over the world. There are many reasons why so many people want to travel to the beautiful island of Maui. One of our favorite things about Maui is WHALE SEASON! What is the "Best Whale Watching Tour in Maui" you ask? The Four Winds and the Maui Magic! Not only do you get the chance to snorkel, but all of our trips include an added bonus of whale watching during whale season. The Four Winds II is our family fun boat and is great for all ages and levels of swimmers. If you are looking for something a bit more personable with smaller groups, check out the Maui Magic snorkel and whale watch combo!
People from all over the globe come to see the whales in their natural habitat. Before you start planning your next Maui vacation during whale season, we have all the answers to your questions!
What Are the Best Months to Whale Watch in Maui?
The best months are typically November to January (and early February).  Whale Season typically starts in mid December and goes until the whales start to migrate back to Alaskan waters. Late April and into May is when it is typically considered to be the end of whale season.
What Time of Day is Best for Whale Watching?
The best time is ANYTIME! If you are wanting to try and snorkel Molokini Crater, your best chance of going to Molokini and whale watching would be during the early morning. The trade winds tend to be calmer during the morning trips. The Four Winds II afternoon snorkel and whale watching tour usually goes to Coral Gardens, but you will still whale watch and snorkel and is the perfect trip for those who are late risers.

How Long Does it Take the Whales to Swim from Alaska to Hawaii?
For an average humpback whale, it takes approximately six weeks for them to swim between Alaska and Maui. While the whales are traveling, they take small naps that usually last around 30 minutes and still remain in constant motion. Amazing!
What Side of the Island of Maui is Best for Whale Watching?

While there are a lot of beautiful places to stay on Maui, the south and west sides of the island provides the best location for whale watching. Most whale watching tours leave out of Maalaea Harbor and Lahaina Harbor. If you are wanting to whale watch AND go to Molokini, you will most likely be leaving out of Maalaea Harbor.
Most people choose to stay in Wailea or Kihei for trips leaving out of Maalaea Harbor. If you choose to take a tour out of the Lahaina Harbor, most of the hotel options are in Kaanapali and Lahaina. If you have the option of booking a hotel that has an ocean view, BOOK IT! You will love being able to sit out on your ocean view balcony and getting to see the incredible humpback whale breaches! It doesn't hurt to bring a pair on binoculars so you can get a closer look!
Are Whales in Maui NOW?
The answer is, YES! The first whale of the season was spotted on October 9th, 2019! The Maui Magic spotted its first whales on Halloween, October 31st, 2019. As we head  into December, we will most-likely see a large influx of whale sightings, as the whales tend to be more prevalent in December through March.
What Makes the Best Whale Watching Tour on Maui?
The list of tour companies is long when you are looking at Whale Watching in Maui. How do you know which tour is the best fit for you?
Whether you are an experienced snorkeler or do not know how to swim, the Four Winds has you covered. Our crew is the best and they will assist you with any questions you have. You'll enjoy: quality snorkel gear, flotation (including our very own Sea Boards), delicious food options, glass bottom viewing room, listening to the whales through our hydrophone, knowledgeable and experienced captains that LOVE spotting whales just as much as you do!
Are you a couple looking for a smaller and more personable experience? Or do you love adventure? Then you will love the Maui Magic! The Magic will take you to the best snorkel spots Maui has to offer. The Maui Magic offers quality food options, top notch snorkel gear, a hydrophone, experienced and knowledgeable captain and crew, and access to two snorkel sites. This tour is faster paced than the Four Winds and is not recommended for ages under 5.
If you can't wait to meet the whales in Maui from up close, get in touch with us to learn more about our tours!