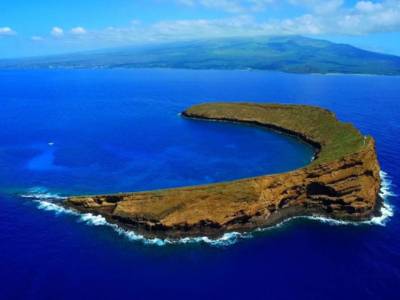 If you visit the Hawaiian Islands and don't give snorkeling a try, most would say you're missing the best part! Maui offers some of the best recreational snorkel spots in the State, with crystal clear waters, a wealth of marine life and many people's favorite destination …. Molokini Crater!
While there are many lovely beaches and other areas to try this activity, getting your "feet wet", so to speak, is best done on one of the wonderful snorkeling tours offered. You may hear otherwise; however, unless you know our ocean conditions well, it is always a good idea to have someone with real experience show you the ropes before heading out on your own.
With numerous guided snorkel tours from Maui there are many great choices; we are a little biased (understandably so!) and have found that a great number of people tend to agree!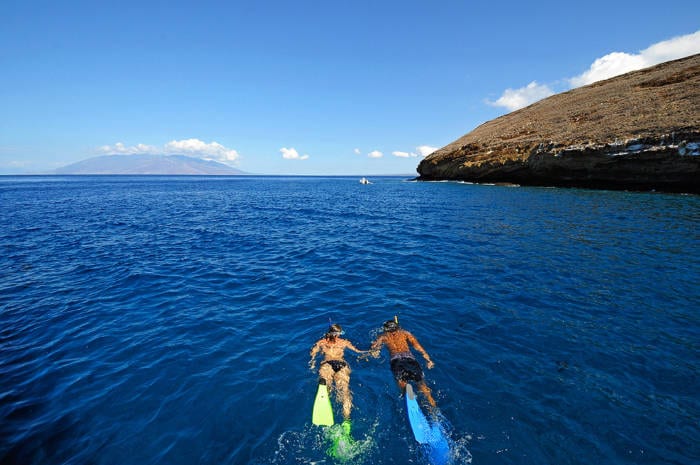 Molokini is our primary morning destination on the Four Winds II, ensuring that you get more out of your snorkeling experience by staying at one site longer, rather than having to spend time mooring and outfitting passengers at two different locations. This makes the trip much more relaxing in the sheltered waters of the Crater. This is how we provide you with the best snorkel on Maui!
We also offer afternoon fun in the sun at a great price! This excursion is a lighter and shorter version of our Classic Morning Molokini Trip. With a later start-time, this is a great option if you like to sleep-in or you want to add something to your morning Maui itinerary.
Typically, due to the afternoon Maui trade winds, this trip snorkels at Coral Gardens unless weather permits us to reach Molokini Crater. Coral Gardens is also one of Maui's premier snorkeling destinations (Coastal Living Magazine rates it as one of the World's Top Ten Snorkel Sites) and offers a treasure of underwater sights, abounding with amazing marine-life.
For the adventure seeker, our Maui Magic offers a stellar alternative to the local rafting trips. No tour is ever the same! And certainly no trip is ever boring! Due to her unique design, the Maui Magic has a wide choice of locations she can access. Unlike other boat trips that only have one or two spots that they can visit, the Magic gets to explore a lot more of the coastal waters around the island. We get to see amazingly-beautiful tropical fish, colorful corals, Spinner and Bottlenose Dolphins, Green Sea Turtles and even seasonal Humpback Whales! The added bonus? Along the way, you get to explore Maui's dramatic coastline that very few boats travel to!
Whether planning your trip to Hawaii or already here, a guided snorkel tour is an absolute MUST DO …. see you on the water!