SNORKEL MOLOKINI CRATER ON THE FOUR WINDS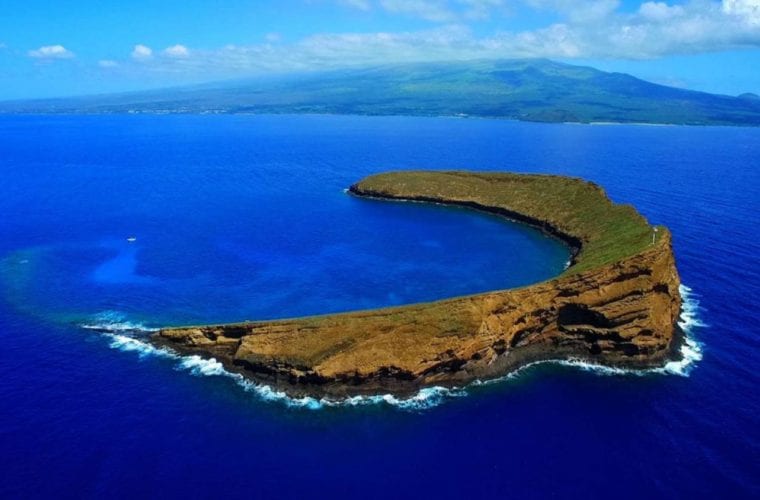 Molokini is at the top of the list of "must see" destinations on Maui, especially if you're looking to SNUBA, snorkel, or scuba dive. The snorkeling is some of the best in all of Hawaii and has been voted as a top reef snorkel site. Even the back side of the crater is considered to be one the 10 best dive spots in the world.
Located just a few miles off Maui's rugged Makena coast, lies the alluring, sunken volcanic crater of Molokini.  Here the crystal-clear tropical waters are home to an array of fish and other unique species of marine-life that all seek shelter inside this beautiful crater. One of the best things about winters on Maui is being able to snorkel Molokini AND whale watch!
Snorkeling at Molokini is extremely safe, due to the protective shelter that the crater creates. Molokini has excellent visibility, up to 150 feet. Molokini is home to about 250 species of fish. The best time to visit Molokini is early in the morning. The prevailing trade winds tend to pick up in the afternoon and can cause unfair snorkeling conditions.
History of Molokini
This volcanic crater formed approximately  230,000 years ago and is located in the 'Alalākeiki Channel. Many cones never break through the waters surface, which is why Molokini is so unique. Water-erosion and sinking over time has created the crescent shaped landmark we all know and love today. The shallow inner cove (inside the crater) is the potion of the floor that submerged. The back side of the crater can reach depths of up to 200 feet!
Archaeological evidence has shown (stone sinkers and lures) that early Hawaiians would visit Molokini to fish. It is also speculated that early Hawaiians harvested seabirds, eggs and feathers on Molokini.
History shows this was a fishing ground to ancient Hawaiians. Today, Molokini Crater is a protected Marine Life Conservation District and is declared a Hawaii State Seabird Sanctuary.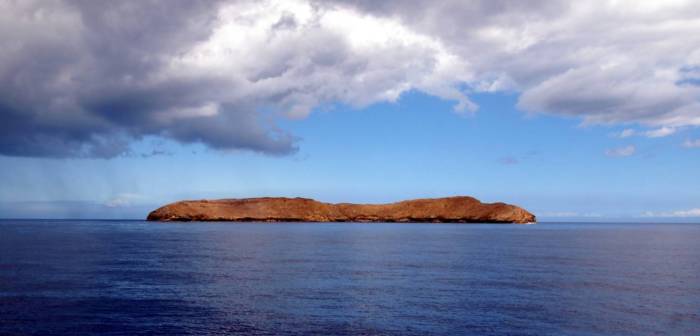 World War II
During World War II., Molokini was used as target practice. Due to its narrow shape, it was considered to be comparable to that of a submarine. The bombing stopped around the 1950's. It wasn't until 1975 that the US Navy detonated an unexploded ordinance, which was later removed by trained local divers. The southwest rim of the crater has been somewhat damaged due to the target practice.
Molokini: Protected Reserve
Molokini is a federally owned and is a state seabird sanctuary. This means that unauthorized landing is prohibited. Permission to land must be obtained both from the U.S. Coast Guard and the Hawaii Division of Forestry and Wildlife.
The current activities are prohibited by the Division of Aquatic Resources:
To fish for, take, or injure any marine life (including eggs), or possess in the water any device that may be used for the taking of marine life, except as indicated in "Permitted activities" above.
To take or alter any sand, coral, or other geological feature or specimen, or possess in the water any device that may be used for the taking or altering of a geological feature or specimen.
To feed or deliberately introduce any food material, substance, or attractant directly to or in the vicinity of any aquatic organism by any means or for any purpose except for trolling in Subzone B.
To moor boats for commercial activities, except as provided for by a permit.
To anchor boats when a day use mooring system is established by the Department.
Note:  Molokini is a state seabird sanctuary, and entry onto the islet is prohibited.
Molokini crater does not have any sort of sand or beach area. The interior portion of the crater slopes off from the shoreline to approximately 100 feet and then drops off into the ocean. The bottom of the crater consists of coral reef, sand patches, and rock boulders. There is an abundance of marine life and lots of tropical fish, which is quite impressive! One interesting fact… it is very rare to see turtles when snorkeling Molokini. Turtles tend to stay closer to the shoreline where they feed on algae.
Remember to apply your sunscreen about 30 minutes before getting into the water and use sunscreen that is reef safe. We want to try and protect our coral reef as much as we can so we can continue to enjoy it! If you have forgotten your sunscreen or do not have any that is reef safe, please ask our crew on the Four Winds II and/or the Maui Magic for complimentary reef safe sunscreen by Hawaiian Sol.
Not a water person? That's ok! Check out the Four Winds II and see the bottom of the ocean floor through our glass bottom viewing room. Our glass bottom boat is perfect for those who want to relax on board, but would still like to see what lies beneath the surface.