Words From Our Guests: Four Winds II & Maui Magic Reviews
One of the things we love most about our jobs here at Maui Classic Charters is being given the chance to show our guests the beautiful island of Maui. Snorkeling in Maui is one of the best activities to do while vacationing on the Valley ISl We love reading about our guests experiences on the Four Winds II and the Maui Magic.
"Between Christmas and New Years Eve 2015, we took a snorkeling trip with Four Winds to Molokini, and it was one of the best day excursions of our lives! There were ten of us — four kids ages 5-11 — and the trip was so well organized and fun for everyone. The food was good, the ship was clean, the captain was funny – but what I really can't say enough about is the staff. They were UNBELIEVABLE. Each of them was so kind, so helpful, so patient with the kids. The kids were nervous at first, and then really into it, and I think it large part this was because the staff were so patient and capable. My daughter wanted in the water, then out, then in, then out – and you would never think for a second that this frustrated them. Honestly, the snorkeling is unreal no matter who you choose to go with, but the staff on the Four Winds were the best staff I've seen anywhere. Truly impressed."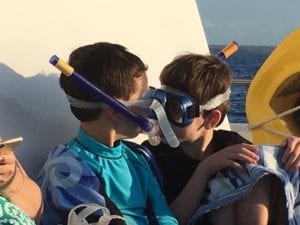 "My husband and I went yesterday and had such a great time! The crew members were so knowledgable and very friendly! The ride out and back is just gorgeous and the snorkeling was one of the most magical things ever! There were amazing fish & we even saw an eel! The meals were nicely prepared and the crew was very attentive. I would recommend this to anyone looking for a fun day of boating & snorkeling!"
~ Guest Review and photo from Stefanie J. Big MAHALO for sharing!
"We wanted to go to Molokini to snorkel. We didn't make it. It was way to windy. But this was just about the best crew ever. The captain was so friendly and Kattie was the best people person I have ever seen. They went out of the way to make sure everyone was happy. Since we couldn't go to Molokini they took us to Coral Gardens. Tons of fish and very clear water. Great Visibility !!! They BBQ and the best hamburger ever. Also very few people and no one was jumping on top of each other like on the other boats, I would go back again and again in a heart beat !"
~ Lori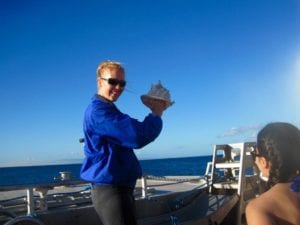 "This was a great snorkeling experience! The boat was spacious with ample seating options. It was a very rough ride but not at anyone's fault. We were lucky enough to head to the crater which was gorgeous! The snorkeling itself was great. Best part is we were free to enjoy at our own pace. There was no tour guide shuffling us around from one spot to the next. The bbq was solid. Definitely worth the cheap price tag. I had the vegetarian burger which was a simple boca burger with all the fixings. My husband said the meat burger was fine.
everyone who worked on the boat was super friendly and helpful. The boat was clean and well maintained. There were lots of activities for younger ones.
Best part of the trip was how many whales we saw! We got a whale watching trip for free. The whales would breach right in front of us!
Highly recommend this snorkeling experience."
From YELP! Samantha R.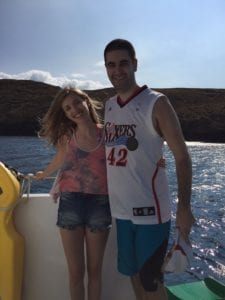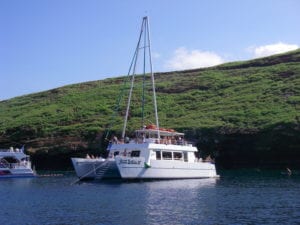 "Captain John served as a great captain, host, comedian, server, tour guide he does it all! We did the snuba with Jamie, it is extra, but is definitely worth it, he gives a good tutorial before you go out, and makes it relaxing and enjoyable. The rest of the staff on board was great, and Trey the photographer was very professional as well. We rented a digital underwater camera and purchased a Cd that had all our pictures on it, and it turned out great! 5 stars for Four Winds!"
"Hi guys,
Myself, my wife – Kimberley, my son – Zachary + my mother – Linda and father – Kevin would like to thank you all for such a professional and enjoyable afternoon. We thoroughly enjoyed our time this afternoon on what was a very last minute booking on our behalf. We couldn't of asked for a more enjoyable time, this was really down to your fantastic crew who went the extra mile to make all feel welcome and did everything with a smile.
Thanks again – one of the best things (if not the best) thing we have done in Maui.
Cheers,
Michael Godwin
A big Mahalo for the five star review and stellar turtle pic, Andrew A.
"Pros:
-Honestly I usually hate doing boat tours as usually gets super crowded.. Your surrounded by ignorant people and usually costs an arm and a leg to go..however this was 58 USD for the afternoon trip to coral gardens with lunch included.
– The tour center receptionist is ridiculously nice and super honest (if your unsure call or even go in and talk to her..she helped me a lot)
– most people like to go to molekini.. However I would suggest (along with all the locals) to go to coral gardens. The coral is brighter, there are more fish and there are Sea turtles!?
In the coral gardens there is more opportunities to see other exotic animals as well.. We got super lucky and saw some eels..a multitude of fish..a sea turtle and best of all a large spotted eagle ray (which apparently is more rare to see than sharks!).
-Food wise…wow get the chicken. You can make a chicken burger.. But the chicken itself is so moist and delicious. Much better decision than the traditional hamburger or hot dog
-Your ticket pays for all beverages (non-alcoholic and alcoholic) so remember to bring ID if you look young.
– Washrooms are probably the cleanest washrooms I've ever seen for a boat (except luxury boats).
– The staff is super friendly and really helpful. Don't be shy to ask them questions!!
-There are places to rent wet suits..cameras..and prescription snorkel gear!
Cons:
-It's all weather dependant.. If it's nice out..chances are you will go to molekini
-Had to bring your own towels
Overall: A must do"
"My husband and I went out to the Molokini Crater with Captain Dan and his crew. It was excellent from start to finish. We were greeted upon boarding with beagles and cream cheese, fruit, juice, and coffee. We had an enjoyable ride to the crater.
We received our gear along the way so we could start snorkeling as soon as we arrived. The crew was so nice and attentive. Capt. Dan let a 6 yr old birthday boy "drive" the boat.
We were given safety instruction upon arriving, basically stay inside the crater and wave your hand if you need a life guard. The equipment was in very good condition. Boogie boards and life jacket, etc, were available too. Small fee ($5) if you wanted a wet suit but the water was not cold at all. Snuba was also available for a fee.
We were welcomed back on board with a huge buffet lunch. All the food and beer, wine, and soft drinks were included.
The upper deck was partially covered so you could get out of the sun if you want. There was also an indoor area on the lower deck where the food was served.
Parking on the jetty cost $0.50 per hour and they recommend you pay for 6 hrs so that's $3 for parking.
I would definitely recommend going out on this boat."
~ Dina J. October 2015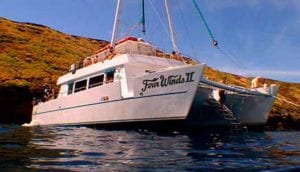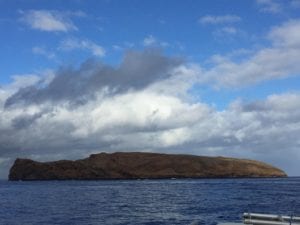 "Unbelievable, positive, energetic, knowledgable Thursday crew made our morning on Maui Magic even more magical. The Captain and his two helpers, Ana and Katie made our incredible 5 hour tour so incredible. We were welcomed with yummy continental breakfast, bagels, cream cheese, fresh fruits, beverages, and bunch of smiles! I don't want to make this review any longer than it already is, but just want to thank Maui Magic for incredible experience, delicious breakfast and lunch and amazing positive energy crew that kept us smiling and made our snorkeling experience incredible. I am highly recommending Maui Magic for all of those dolphin/turtle lovers outthere looking for impeccable Maui marine experience! Great job guys. It was a pleasure being on your boat!" ~ MikiVeliki
"My husband and I booked a trip December 16, 2014 and want to give feedback related to the experience First off, our sincerer thanks and appreciation to Captain John and his crew for their efforts in making the experience memorable. Captain John is a rarity and his humor and attitude to go above and beyond made it a very special trip. The BBQ was tasty and above many outfitters standards. We would like to say thank you and wish you all a very Merry Christmas. We have and will continue to speak highly of the company as it is above and beyond many other companies. In closing we would like to say to Captain John " Go Bears" from Heidi and Barry Paul from Vancouver BC …"